This malware known as "Koler.A" specifically targets mobile devices running on Android. When infected, it locks your device, making the home screen and your valuable data inaccessible. Not only that, this virus will scare you to death by accusing you of viewing illegal pornography. To unlock the device, you will be forced to pay a ransom of $300 US dollars to these hackers, who by the way pretends to be a government Cyber Security agency. Apparently, this ransomware even has the ability to modify itself to fit the users country of origin.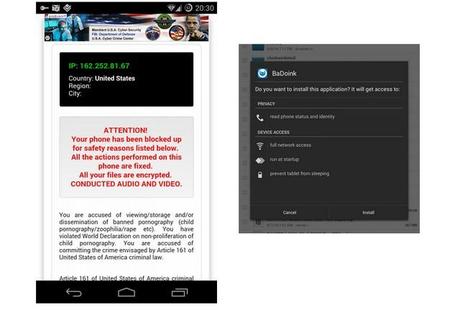 The dangerous Koler.A malware has claimed 68 victims so far from 31 countries around the world and it appears to be spreading fast. According to Bitdefender, this virus automatically downloads itself on Android devices as an APK when the user browse certain porn websites and then it will ask the user to install the virus impersonating a popular video player app. Once installed, it will run the virus across your device within 5 seconds and the phone will go on a lockdown.
Read Also: CryptoLocker Ransomware Encrypts Personal Files and Force Users to Pay $300
Mobile virus guards won't be helpful in this case, but luckily, you can prevent this from happening if you have your "Install apps from unknown sources" setting off. Also, you can boot the device in safe mode and uninstall the app to get rid of this ransomware. Or you can stop visiting porn sites from your phone, but I guess that won't be an option, right?
[Via: Ars Technica / Source: Bitdefender Labs  / Photo: Pierre Lecourt]
(All images, trademarks shown on this post are the property of their respective owners)
Follow @nrjperera - Roshan Jerad Perera