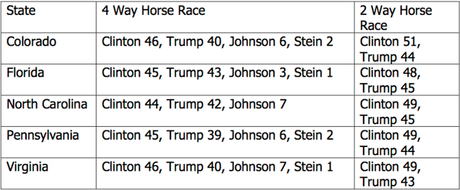 Public Policy Polling has done a post-debate survey in five major swing states. It shows Clinton with a lead in all five states -- Colorado (+6), Florida (+2), North Carolina (+2), Pennsylvania (+6), and Virginia (+6).
The poll shows that in those swing states Clinton was widely viewed as the winner of the first debate, more prepared to be president, having best temperament for presidency, and most trusted with nuclear weapons. Donald Trump wins in only one category -- most likely to start a nuclear war.


Public Policy Polling interviewed likely voters on September 27

th

and 28th on behalf of VoteVets.org Action Fund. There were 694 respondents in Colorado, 826 in Florida, 861 in North Carolina, 886 in Pennsylvania, and 811 in Virginia. The margins of error for the surveys are +/-3.7%, +/-3.4%, +/-3.3%, +/-3.3%, and +/-3.4% respectively. 




DONALD TRUMP

HILLARY CLINTON