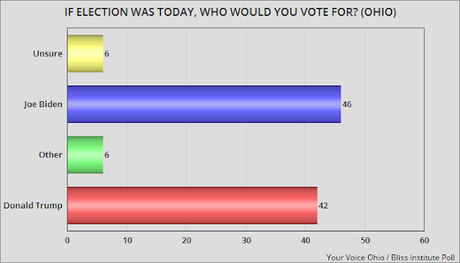 The chart above reflects the results of the Your Voice Ohio / Bliss Institute Poll -- done between June 24th and July 15th of 1,037 registered voters in Ohio, with a 3 point margin of error.
In 2016, Donald Trump won Ohio by an 8 point margin. He was expecting to carry the state again. But it looks like he may actually lose there. This poll shows Joe Biden currently enjoys a 4 point lead in Ohio. Like Texas, Ohio is a red state that Trump is going to have to fight for.
NOTE -- No Republican has ever won the presidency without carrying Ohio.