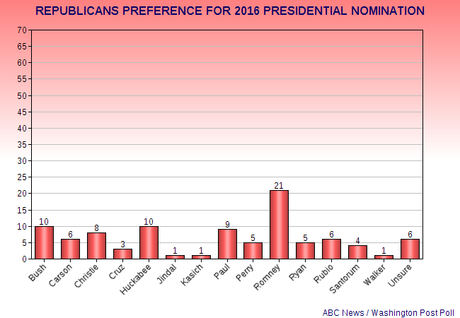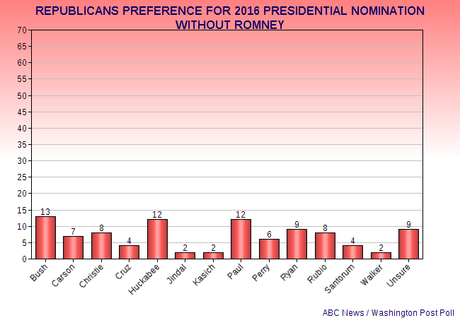 This is the first poll regarding presidential preferences of the parties in more than a month. I think it was done because of all the recent talk about a possible Mitt Romney candidacy. Romney would be leading the field of Republicans if he was a candidate -- but he would be far from running away with the nomination. He only gets 21% support right now -- less than a quarter of the Republicans.
Without Romney in the race, it looks like a three-way tie between Bush, Huckabee, and Paul -- with Ryan, Rubio, and Christie not far behind. The Republicans are still a long way from having a favorite for the nomination.
It's different for the Democrats. Clinton still is far in the lead with the support of 65% of Democrats. Biden and Warren trail far behind, with 13% and 11% respectively. There has recently been some talk of Bernie Sanders running as a Democrat, but right now he only gets the nod from 1% of Democrats.
These numbers are from the ABC News / Washington Post Poll that was done between October 9th and 12th of a random national sample of 1,006 adults.