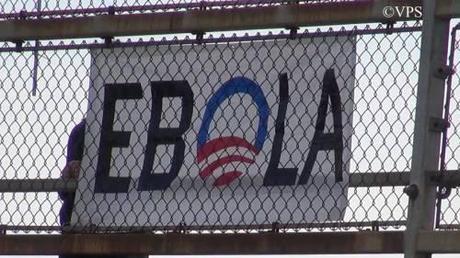 Seen on a freeway overpass somewhere in America
Meanwhile, ABC News reports, Oct. 15, 2014, that a new ABC News/Washington Post poll finds that President Ebola and the Democrats "are heading into the midterm elections in trouble."
The poll's findings, produced for ABC by Langer Research Associates:
The POS's 40% job approval rating — STILL 40% JOB APPROVAL! — is the lowest of his career.
The Democratic Party's popularity is its weakest in 30 years, with more than half of Americans (51%) seeing the party unfavorably for the first time

, and just 39% see it favorably.
The Republican Party has a weaker 33%-56% favorable-unfavorable rating. But while the Democrats have lost 10 points in favorability just since August, the GOP has held steady – and its negative score has eased by 7 points in the past year. The GOP also benefits from its supporters' greater likelihood of voting. All of which accounts for

GOP candidates holding a 50-43% lead among likely voters for U.S. House seats in the Nov. 4 election.
71% of Americans express worry about a terrorist attack.
65% say they're concerned about an Ebola epidemic.
Almost two-thirds say the country is headed seriously off on the wrong track.
Three-quarters are dissatisfied with the way the political system is working. Scorn is widely cast: Among those who are dissatisfied with the political system, two-thirds say both sides are equally to blame, with the rest dividing evenly between Obama and his party, vs. the Republicans in Congress, as the chief culprits. But as a nearly 6-year incumbent president, Obama – and by extension his party – are most at risk.
On which party they trust more to handle the main problems facing the country:

Among all Americans: it's 39% vs. 39%.
Among registered voters: it's 41% for the Republican Party vs. 38% for the Democrats.
But

among likely voters

this becomes an 8-point Republican advantage:

46% for the GOP vs. 38% for the Democrats.
Obama is at career lows in approval for his handling of immigration, international affairs and terrorism (long his best issue). Approval of his handling of the conflict with Islamic State insurgents in Iraq and Syria has plummeted by 15% in the last two weeks, amid questions about the progress of the air campaign now under way. (See "Obama's ISIL strategy reexamined: air strikes ineffective; weak coalition")
While Obama's negative rating on handling the economy has eased, more Americans say they've gotten worse off rather than better off under his presidency:

77% are worried about the economy's future.
57% say America has  been experiencing a long-term decline in living standards – all grim assessments as Election Day looms.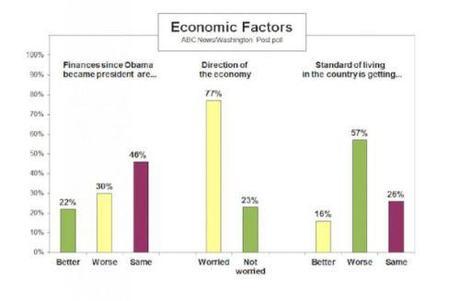 Never forget that in Obama's mind, there's something wrong with you if you don't think America is better off under his presidency.
See PDF of the poll with full results, charts and tables here.
~Eowyn