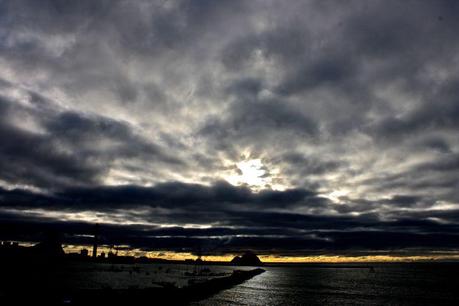 New Plymouth was definitely not a part of our initial plan. We were hoping to stay out of all cities except for the exciting ones (Wellington, Queenstown, etc.) and stick to the bush lands, empty beachfronts and abandoned colonial stations, but somehow leaving the wonderful Waitomo glowworm caves this seemed like the next best spot to camp the Nugget for the night.
We were expecting to catch a glimpse of Mt. Taranaki (it's on the cover of our guide book!) and while the mountain ended up being obscured by clouds for all but literally 30 seconds, New Plymouth itself was actually quite lovely. The town has an incredible walkway that meanders six kilometers down the coastline, which gave Jesse the chance to take some beautiful pictures, and we ended up treating ourselves to our first dinner out on the road trip at a little Italian place in town.
Without an oven, it is unfortunately impossible to cook pizza in the Nugget, making this stop completely justified.
PS - in case you haven't read enough about our Everest Base Camp experience back in April...here's a link to an AsiaLife Cambodia article I wrote summing up the two weeks of heavy hiking. Phew. Makes me tired just reading about it!