It's been a rough week so far as art goes.   With this build I promised to show how long it takes to make one of these dragons.   I started off great guns building the nest after school Monday night.   But after three after school meetings I was able to accomplish less and less.   It's hard to be creative after working long days.   For the rest of the week all I was able to do was paper mache the pieces of the dragon.   Still there is something satisfying about being at work and knowing that the pieces are drying.   Here are the photos of the genesis of this dragon.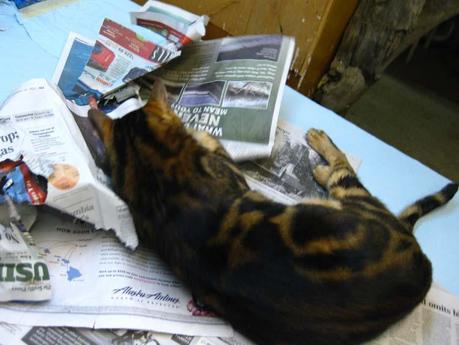 The beginning of a project always involves Max.   He loves to tear up paper.  As soon as I unfold the paper to crumple, he is in the middle of it grabbing it and ripping it up.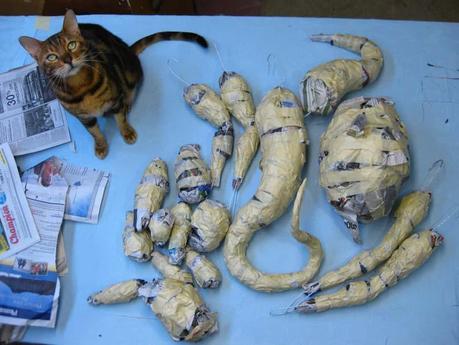 After a bit of wrestling, Max relinquishes the pile of paper and I'm able to crumple some body parts.  Here you see a body, a long tail, a neck (upper right hand), two legs (next to Max), two arms (which will be wings), and balls of assorted sizes that will be a head and muscles.   As you've seen with my art, I like the appendages to be stuffed inside clothes hangers.   I did this crumpling over a couple hours one night after school.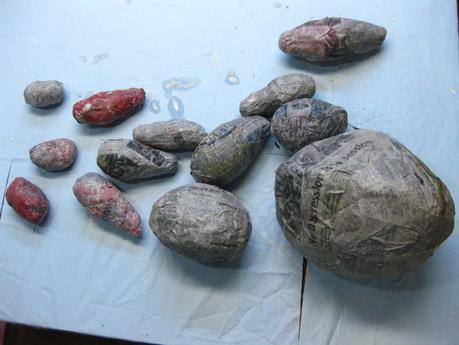 I added the paper mache over a couple hours the next night.   Here are the balls.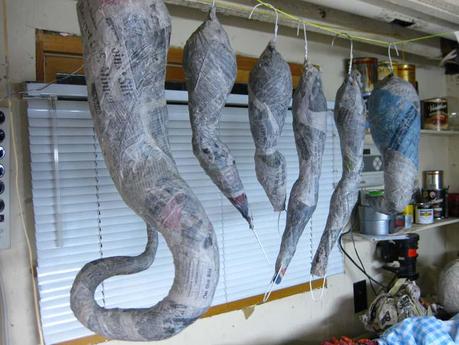 Here are the other appendages.   The clothes hangers are great for hanging the pieces to dry.  These will take two or three days to dry completely.   I will spend that time making claws and teeth.   I'll show you those tomorrow.
Thanks for dropping by.