Hello,
Well, I've actually finished this dragon.     I really wrestled with the paint job.   More about that on the next post.   That's when I'll do the final "reveal."    I just haven't had the time to take the final photos.    I've decided to do this one post  on the baby dragon in the nest.    Again, in case you just want to see the baby and run, here it is, in the egg, with Eddy guarding.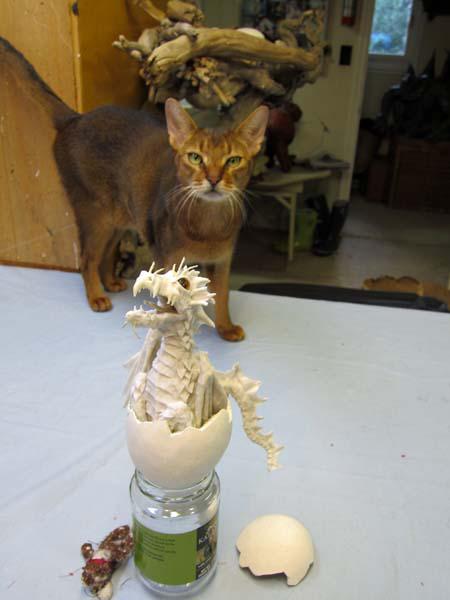 Note the little bear next to the jar.  That is Eddy's favorite toy.  It's become just a blob over the years.  He brings it to me as an offering.  He drops it in front of me when I'm working.  It's his way of saying, "pay attention to me!."
So, in case you've  ever wondered, which came first, the baby paper mache dragon or the paper mache egg...
it was the egg.
I used Jonni's "paper clay" to make the shell of the eggs.  That stuff is great.   I just made some paper balls and put the paper clay on the outside.  I wasn't sure what size of egg I wanted, so I made a bunch, as you can see.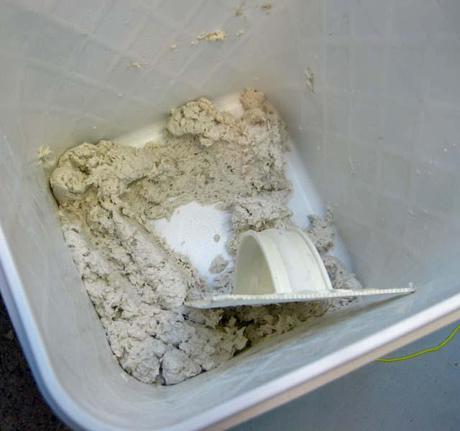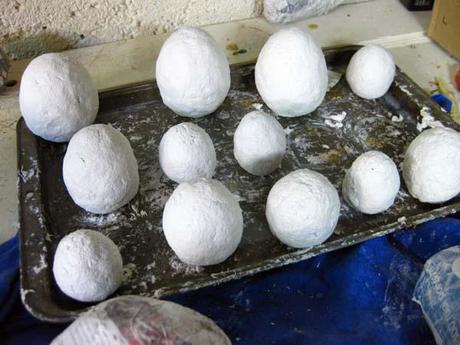 Once they were dry I sanded them.  I didn't care if they were perfectly smooth.  After all, they are dragon eggs.  Then I cut one open with my utility knife and pulled out the paper wad.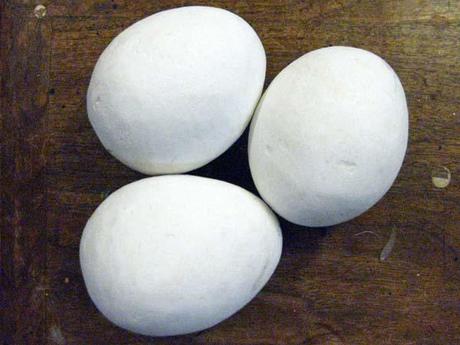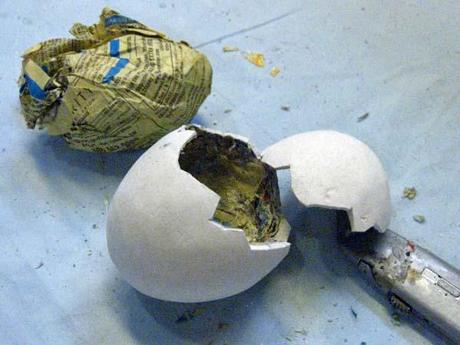 As you can see below, I just started with a few odds and ends of paper mache balls I had laying around.  I didn't do any kind of formal paper mache on the little dragon.   I just sculpted with small pieces of paper mache and masking tape.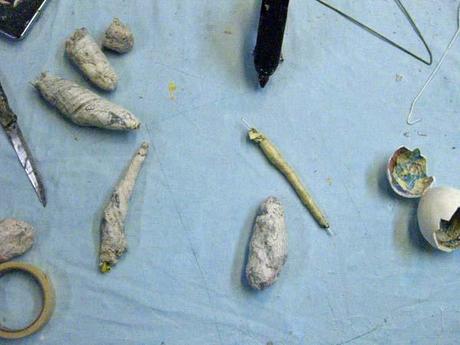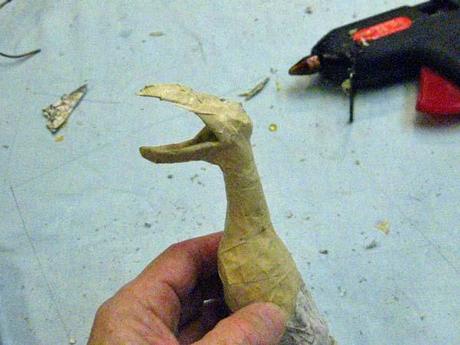 I hot glued on some eyes and teeth.  I wrapped masking tape around wire to make the "fingers" of the little dragon wings.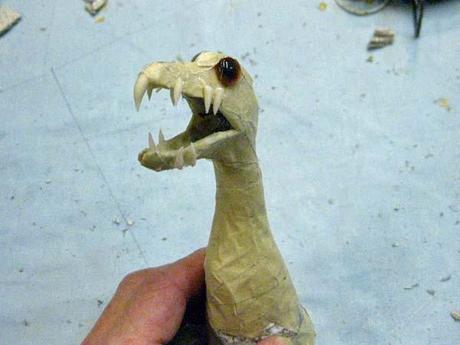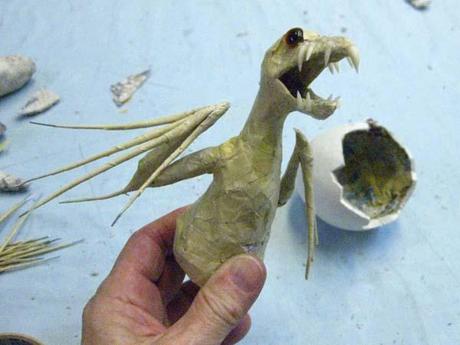 I tried to add analogous features to the big dragon, like the spikes down the spine.  Of course they would be the baby versions of the mom dragon.      I didn't take any photos of the cloth mache process.   Suffice it to say that it took time and patience.  Working small is harder than working large in many ways.   Many times people will write to me wanting me to make them a "small" dragon.   I've learned over the years that a request like that really means, "Make me something inexpensive."   The truth is, in many cases, it takes me longer to make something small than it does to make something large.   Still, I enjoyed making this little guy.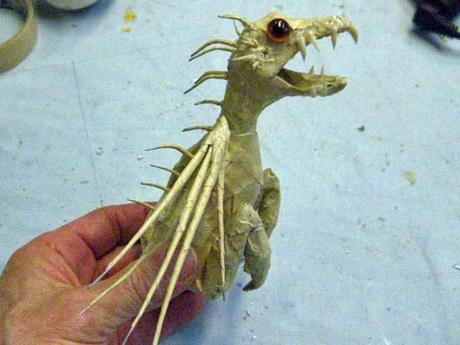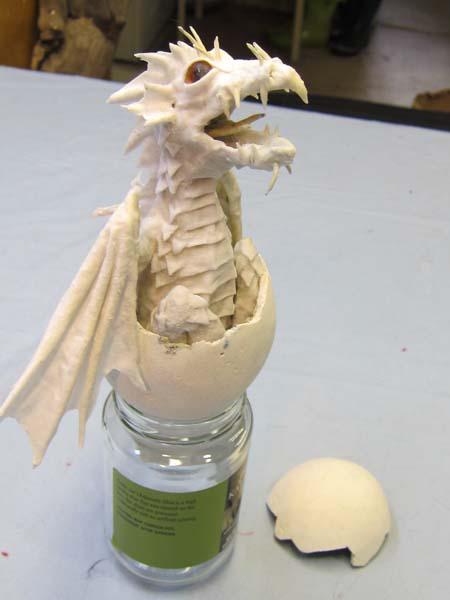 Here he is in the nest, waiting to be fed.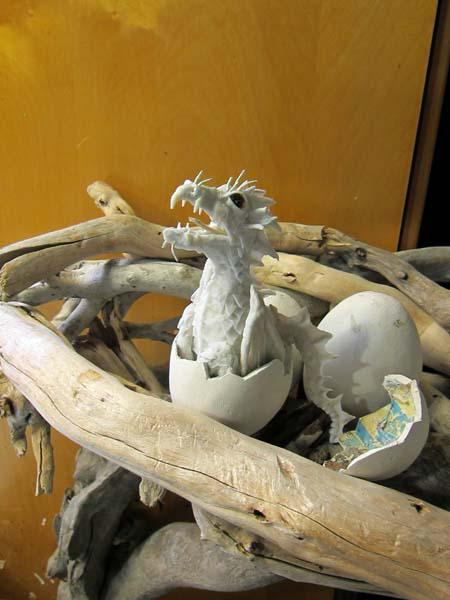 And here he is with mother.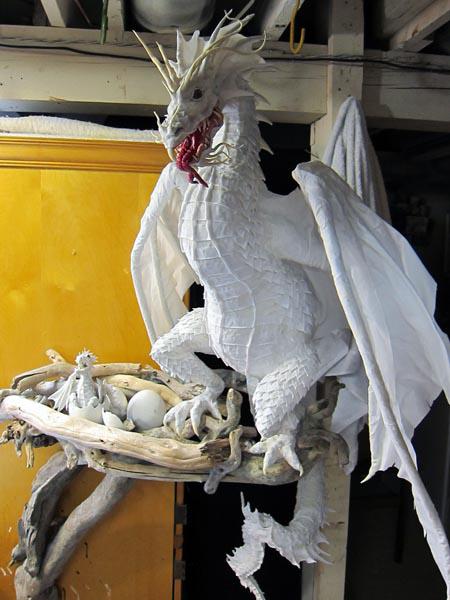 Thanks for stopping by.  I'll take some photos this weekend of the finished piece.