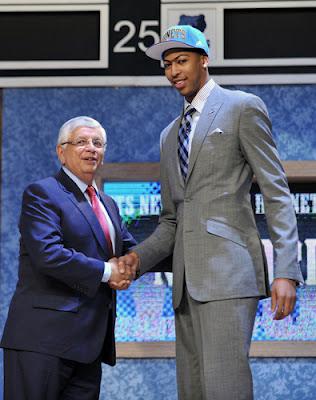 Anthony Davis the #1 pick in the 2012 NBA draft (AP Photo/Mel Evans)
"With the first pick in the 2012 NBA Draft, the New Orleans Hornets select Anthony Davis."
"With the tenth pick in the 2012 NBA Draft, the New Orleans Hornets select Austin Rivers from Duke University."
Those two sentences uttered by NBA League Commissioner David Stern during the 2012 NBA draft, immediately changed the fortunes of the New Orleans Hornets. The Hornets have come a long way in a short period of time. Woeful, might be a word used to describe New Orleans, just a few months ago. Today, two of the most exciting players from the college game are taking their talents (thanks LeBron) to NOLA.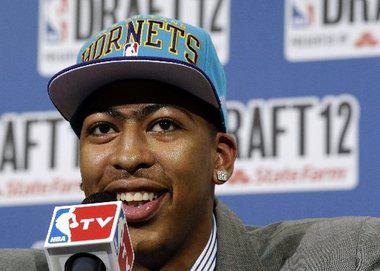 (AP Photo/Julio Cortez)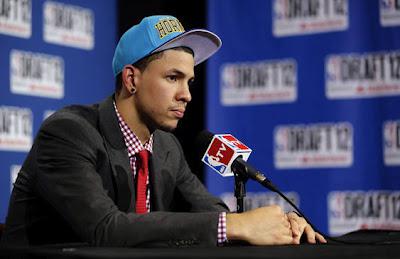 (AP Photo/Julio Cortez)
Anthony Davis anchored the Kentucky squad in their 2011-12 NCAA Championship season. Austin Rivers, son of NBA Head Coach Doc Rivers, was polarizing at Duke. He'll be remembered for the shot over rival North Carolina's Tyler Zeller, with time expiring for the incredible comeback win.
New Orleans resident guard, Eric Gordon is probably smiling today, in anticipation of playing with his new teammates. Actually, the city of New Orleans should join Gordon in welcoming Davis and Rivers to the Crescent City. If the rookies live up their billing, New Orleans just might be a team to watch in the upcoming season.
In other draft notes, history was made when Kentucky's Anthony Davis and Michael Kidd-Gilchrist were drafted #1 and #2. It's the first time ever, the top two picks in the NBA draft came from the same school. Kentucky and North Carolina each had four players selected in the first round of the draft.
Speaking of smiling, David Stern may have the biggest smile of all. LeBron James finally has his crown as King. New Orleans is no longer league-owned, and rebuilding with a good nucleus of young, talented players. Last but not least, USA Basketball will be on full display, for the world to see, during the 2012 London Olympics.
It's good to be the King (thanks Mel Brooks)