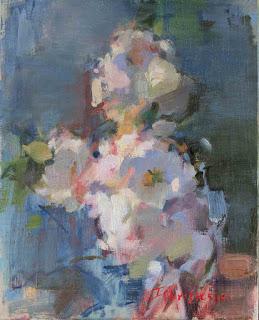 I'm pleased to be getting back to teaching online for the Winslow Art Center in 2021. 
Coming up in February I'll be doing a demo that tackles the topic that I get the most questions about: edges.  
More than just decoration, edges are integral to the painter's concept and intention.  
I'll explain how I make edges, from hard to lost, and, more importantly, how I choose which edge treatment to use in different parts of my paintings.
Everything You Ever Wanted to Know about Edges  is a 90 minute demo on Friday, Feb 19.  If you can't watch on the day, it will be recorded and available for online viewing for a month after that.  
Along with the demo, I'll introduce 2 new, 4-week online workshops: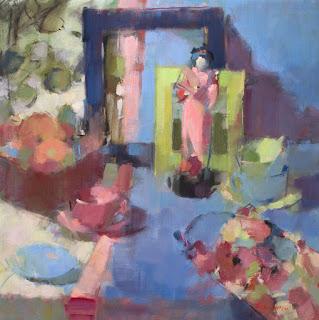 Going Deeper: Color Challenges  
begins on Feb 16 and is a continuation of a workshop that continues to be popular "Color and Shape".  Each lesson will contain a different color experiment to expand your understanding of that slippery little devil, color.  We'll work from still life objects but these color explorations will enhance your painting practice in any genre.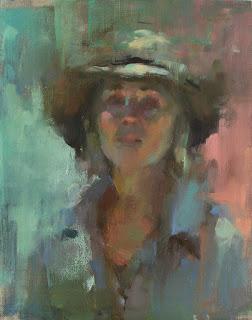 The Expressive Portrait from Life 
 begins Feb 20 and is one that I'm very excited about.  I love painting people from life and this workshop will have us learning about proportions, features, flesh colors and composition from the cheapest model there is: ourselves.  3 of the 4 classes will be done using a mirror and our own faces, and the final class will be from a live model who will join us via zoom.  
Why not just have a photo of the model? you may well ask.  But I've found that there's something quite different about the way we paint when the model is actually present for us.  We edit better, make bolder choices, and work more quickly.  
Working from a photo seems to slow many of us down.  We fiddle and fuss with details that would be better left unpainted and end up with something that looks like a painted photograph, not a portrait of a living, breathing person.  
Follow the links above for more details and to register.  
I hope to see you online.
Happy painting!