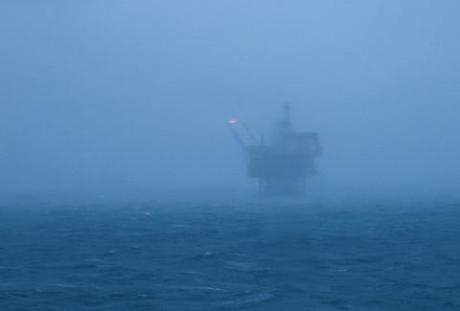 North Sea oil rig. Photo Credit: Stig Nygaard http://www.flickr.com/photos/stignygaard/3002902143/
Oil giant Shell admitted on Tuesday that there is a second leak in the flow line beneath the Gannet Alpha oil station in the North Sea, earning it swift and angry reactions from environmental campaigners. Government figures show that 216 tonnes of oil have already been released into the sea following a leak discovered on 11 August.
The Gannet oil field, only 112 miles east of Aberdeen, is co-owned by Esso but operated by Shell. A BBC report claimed that the field produced "13,500 barrels of oil per day between January and April of this year." According to figures from the Department of Energy and Climate Change, the amount of oil released in the leak exceeds the average yearly totals in the last decade.
"This is a significant spill in the context of annual amounts of oil spilled in the North Sea," said Glen Cayley, technical director of Shell's exploration and production activities in Europe.
Shell attracted criticism from environmentalists for not reporting the first leak until 13 August, a delay of 48 hours. After the BP Deepwater Horizon disaster in the Gulf of Mexico last year, companies have come under pressure to release information on how they intend to deal with oil spills. Shell claims that it has stemmed the leak and the volume of oil escaping is less than five barrels a day. It also pointed to the rough winds and waves in the area that have helped to disperse the oil which has reduced the surface slick to 0.2 square miles. Others have also pointed out that this spill is qualitatively different than the Gulf of Mexico leak: Andy Bloxham, writing in The Telegraph, observed that the spill is "very small compared to the BP oil spill in the Gulf of Mexico last year, in which 4.9 million barrels of oil escaped at a maximum rate of around 62,000 barrels a day."
But are they being honest? Are environmentalists worrying about nothing?
Spill the beans, not the oil. "While oil has been flowing, timely information has not," said Vicky Wyatt, senior oil campaigner at Greenpeace in The Sun, expressing the growing feeling that oil companies must be more open. The Independent quoted Per Fischer, of Friends of the Earth Scotland, who agreed, "[I]t beggars belief that we are still being drip-fed information and that Shell's initially 'insignificant' leak is still causing problems."
Fears for the future. Environmental campaigners are worried about plans to drill in Greenland. Wyatt from Greenpeace said,"[A]s Shell finalises plans to move into the fragile Arctic, where oil spills are almost impossible to clean up, the company has important questions to answer."
Seabirds at Risk. Stuart Housden, director of RSPB Scotland iterated his fear in The Scotsman,"[E]ven a leak of half a tonne in the wrong place can kill hundreds, if not thousands, of birds". Young puffins and guillemots are at risk at this time of year as they are molting and cannot fly properly. Housden expressed frustration at Shell's lack of cooperation, stating, "[I] would have thought it was in their interest to be open with bodies like us, who have got experience and knowledge to impart."