Hi, Everyone! So in this post, I am going to do a quick review of the newly launched Nivea Gas Free Body Deodorizer Spray.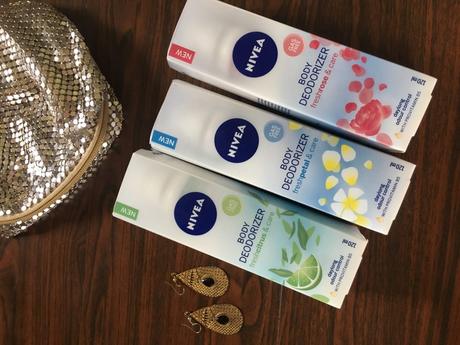 Product Details
Put your best forward when heading into an important meeting, a social event, or a family gathering. With just one spray of this deo for women, enjoy a fresh, floral scent that's long-lasting in effect, and in impression. Setting it apart from others in the women's deodorant universe, the Nivea Women Body Deodorizer comes with an innovative gas-free deodorising formula which is concentrated, yet skin-friendly. Unlike other deodorants, it not only creates a refreshingly floral fragrance but also controls the formation of body odour with a single use.
Day long odour control and confidence in just 1 use
Skin-friendly formula enriched with provitamin B5
24 hour protection against body odour
The refreshing floral scent keeps you fresh all day long
Skin compatibility dermatologically proven
Gas Free formula
Ingredients
Alcohol Denat.(97.45%v/v) with Tertiary Butyl Alcohol/Denatonium Benzoate, Parfum, Persea Gratissima Oil, Octyldodecanol, Panthenol, Methyl Phenylbutanol, Aqua
How to use product
Hold the can 10-15 cms away.
Spray directly on underarm and on body.
Apply on the skin for best results.
Rs 225 each/- for 120ml
My experience
The Nivea Gas Free Body Deodorizer bottles look different than their standard body spray bottles. I think Nivea has completed innovated its body spray line by making them gas free.The Nivea Gas Free Body Deodorizer has 3 variants of fragrance.
1.Nivea Body Deodorizer Fresh Petal & Care Spray is a light scent of floral tones- if you like light flowery scents then you can op for this one.
2.Nivea Body Deodorizer Fresh Rose & Care Spray: If you are a fan of sweet rose fragrances, then this one will be your choice
3.Nivea Body Deodorizer Fresh Citrus & Care Spray: if you like a blend of fresh citrus based fragrances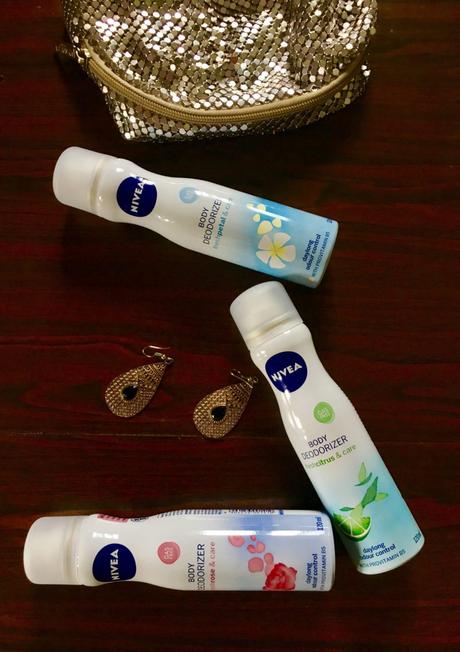 I personally love Nivea products a lot, essentially because they work on my skin and also help in control body odour. I am currently using these sprays along with the Nivea Antiperspirant Protect and Care Roll on.
The Nivea Gas Free Body Deodorizer Spray is easy to use and travel-friendly. I use them after taking a bath when my skin slightly damp whereas when it comes to underarms. I somehow refrain to use any spray out there, I choose a roll on over a body spray. These sprays are gas free, so those who are allergic to aerosols can use them. The Nivea Gas Free Body Deodorizer is watery in texture and works amazingly as a body mist. I used them on my underarms and they worked quite well, although I experienced a slight itch and burn sensation, probably because just waxed there. So, avoid using them for a day or so in your underarms if they have been waxed.
The Nivea Gas Free Body Deodorizer Spray stay for on your body for 7/8hrs which is too good for the price you pay.
Final Recommendation: Overall I think they are pocket-friendly and have variants to suit different moods and preferences. They definitely make you feel fresh and clean throughout the day.