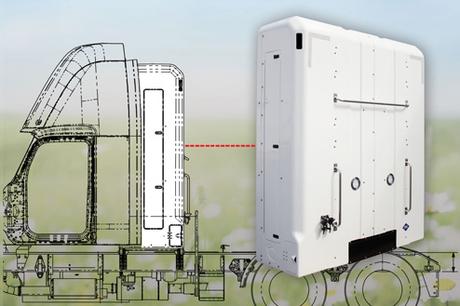 Balancing natural gas tank size and weight with sufficient capacity to deliver longer range has been a challenge since CNG was first introduced as a fleet fuel. The answer to boosting range has been to add more tanks to the cabinet or increase the cabinet's size.
Quantum Fuel Systems Technologies Worldwide, Inc. has met the challenge with what it believes is the latest advancement in next-generation CNG fuel tank technology that delivers both capacity and functionality – without enlarging the cabinet.
Quantum, which manufactures lightweight, high-capacity CNG storage tanks and fully integrated natural gas storage solutions for truck OEMs and aftermarket and OEM truck integrators, recently introduced its Q-Cab160 three-tank CNG storage system. It debuted on Kenworth T680 series tractors being operated by a national shipping company. A total of 300 such vehicles will be on the road by the coming months.
Manufactured in its California facility, the Q-Cab series is a back-of-cab CNG module configuration that provides 160 to 180 diesel gallon equivalents (DGEs) in a compact design. It incorporates 30-inch diameter storage tanks that comprise the lightest and highest capacity DGE system in the industry, says Hernan Henriquez, a director with Quantum.
Quantum's new three-tank module delivers up to 15 percent less weight – the lightest among comparable CNG fuel systems – with range equivalent to traditional diesel tanks. Solutions from other CNG fuel system providers typically require between four to six tanks to achieve comparable CNG storage capacity, he says. Quantum's module is also broader and lower for better stability and reduced loading on truck frame rails.
Quantum Q-Cab also improves ease of integration and serviceability. Technicians can replace the filter from the main door of the fuel module. All serviceable items can be reached from a new central access door above the frame rails which greatly simplifies connections and maintenance.
For those seeking even greater capacity and range, Quantum's Q-Rail System is a lightweight, rail-mounted fuel tank that provides 46 DGE. When two rail-mounted cylinders are combined with back-of-cab storage, a vehicle can achieve capacity of 272 DGE. The grid-friendly design makes the rails adaptable for any OEM frame rail installation.
"Quantum discussed building 200 DGE solutions, but customers said that 180 DGE was ideal for their long-haul applications," Henriquez says. Future models likely will continue the push toward lighter modules with greater aerodynamics for reduced drag.
"Our customer base wants to maximize their driving range while reducing the weight of the fuel system," he says. "Our mission is to deliver new solutions to meet current demands and address future trends by providing fleet operators the capacity, reduced weight, and efficiency they need from a single system."