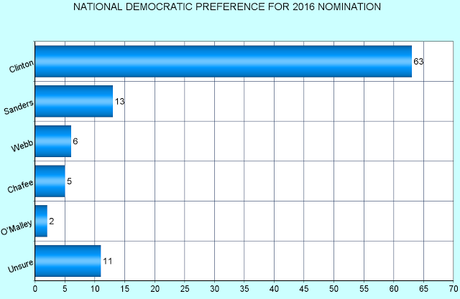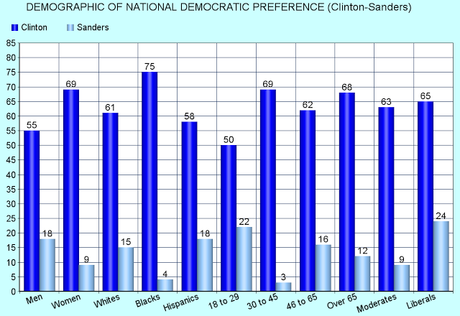 A new national poll has been released on both the Democratic and Republican presidential races, and it shows there hasn't been any real change with the voters of either party. Democrats are locked into supporting Hillary Clinton. She has 63% support to only 13% for her only opponent (so far), Bernie Sanders. There are still several months before the voting starts in January, but there has been no real movement away from Clinton and toward Sanders. Liberals and young people give Sanders the most support, but neither group has 25% support.
The Republican side of the survey shows there is still no real leader. Walker has the most support at 18% (certainly not overwhelming support), but there are six others within striking distance -- with percentages between 9% and 13%. Bush, once a leader in the polls, seems to have lost support and now has only 11% support.
This is the new Public Policy Polling survey -- done between a national sample of 600 Democrats and 685 Republicans. The margin of error for Democrats is 4 points, and for Republicans is 3.7 points.