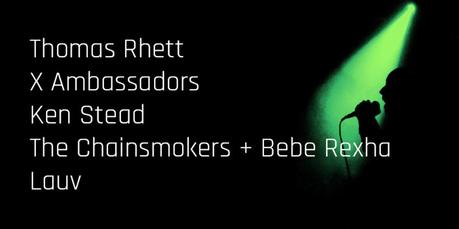 New Music from Thomas Rhett, X Ambassadors, Ken Stead, The Chainsmokers + Bebe Rexha and Lauv
In this late Friday edition of the New Music Spotlight, We're bringing you music from Canada and the USA. We've got some country, some rock, some pop, with a dash of roots and EDM thrown into the mix. There's a lot of emotion in this weeks songs. We hope they speak to you too.
Let's do this!
Artist: Thomas Rhett
Hometown: Valdosta, GA
Genre: Country
Related: Jon Pardi, Dustin Lynch, Florida Georgia Line
Song: Blessed
Notes: Do we really need another love song from Thomas Rhett? You bet your ass we do! This week we're bringing you Blessed from Thomas Rhett's latest album, Center Point Road. It's a beautiful song that makes my heart happy and my face smile. And the rest of the album is pretty damn good too.
Links: Web / Facebook / Twitter / Instagram / Spotify / Apple
Artist: X Ambassadors
Hometown: Ithaca, NY
Genre: Rock
Related: AWOLNATION, WALK THE MOON, BANNERS
Song: HOLD YOU DOWN
Notes: HOLD YOU DOWN, is the third single from their upcoming sophomore album Orion (release date June 14, 2019). Directed by Najeeb Tarazi the video highlights home movie footage from lead singer Sam Harris and his brother, keyboardist Casey Harris' childhood. The band gives us a peek into the bond between the brothers.
The combination of lyrics, music and visuals are heartwarming. We should all be so lucky to have someone who will always be there for us.
Links: Web / Facebook / Twitter / Instagram / Spotify / Apple
Artist: Ken Stead
Hometown: Edmonton, relocated to Calgary
Genre: Roots/Rock
Related: Liam Corcoran, Ryan Adams
Song: Trouble
Notes: The video concept features two women on a date, one brings along a camera and captures the trouble they get up to. Ken is a staple in the Canadian roots community but he's bringing a much rockier sound this time around with his new release Civil War. The album was produced by Winston Hauschild (Hannah Georgas, Hey Ocean), and mixed by Canadian legend Howie Beck (Barenaked Ladies, Feist, Walk Off The Earth), and we think it's going to open some new doors for Ken Stead.
Links: Web / Facebook / Twitter / Instagram / Spotify / Apple
Artist: The Chainsmokers + Bebe Rexha
Hometown: New York, NY
Genre: Pop / Electro Pop / EDM
Related: Alessia Cara, Camila Cabello, Zedd
Song: Call You Mine
Notes: A great collaboration with Bebe Rexha taking all the vocals. The music video portrays the aftermath of a terrible murder featuring the The Chainsmokers' at the hand of Bebe. Check it out below!
The Chainsmokers Links: YouTube / Twitter / Facebook / Instagram / SoundCloud / Spotify / Apple
Bebe Rexha Links: YouTube / Twitter / Facebook / Instagram / SoundCloud / Spotify / Apple
Artist: Lauv
Hometown: San Francisco, USA
Genre: Pop
Related: Sasha Sloan, Alec Benjamin, Alessia Cara, Halsey
Song: Sad Forever
Notes: If you ever wonder if we're starting to break through the stigma attached to mental illness, we are. Lauv's latest single is about his journey with depression and OCD. The video was recorded live in Manilla and the song, along with its captions, deliver an unambiguous message. Singing about how he's feeling instead of pretending it's not happening is big. And we appreciate it.
Lauv's new album, ~how i'm feeling~ is coming soon, and we can expect more singles to come. He'll be heading out on tour in October to support the album, hitting 19 cities and opening on select dates are bülow, Chelsea Cutler and Carlie Hanson.
Lauv will be donating all proceeds from the track to various mental health organizations across the world that work to de-stigmatize mental health issues. Scroll to see the list of mental health organizations and their links.
Links: Web / Facebook / Twitter / Instagram / Spotify / Apple
Lauv's List of Mental Health Organizations
North America: Bring Change 2 Mind (https://bringchange2mind.org/)
Facebook: https://www.facebook.com/BringChangetoMind/
Instagram: https://www.instagram.com/bringchangetomind/
Twitter: https://twitter.com/BC2M/
Facebook: https://www.facebook.com/timetochange/
Australia/NZ: beyondblue (https://www.beyondblue.org.au/)
Instagram: https://www.instagram.com/timetochangecampaign/?hl=en
Twitter: https://twitter.com/TimetoChange
Facebook: https://www.facebook.com/beyondblue
Instagram: https://www.instagram.com/beyondblueofficial/
Europe: Denmark - http://www.en-af-os.dk/english.aspx
Twitter: https://twitter.com/beyondblue
Facebook: https://www.facebook.com/hjarnkoll/
Europe: Netherlands Starmen Sterk Stigma (https://www.samensterkzonderstigma.nl/)
Instagram: https://www.instagram.com/hjarnkoll_riks/
Twitter: https://twitter.com/hjarnkolls
Facebook: https://www.facebook.com/EnAfOs/posts/?ref=page_internal
Instagram: https://www.instagram.com/enafos/
Twitter: https://twitter.com/EN_AF_OS
Facebook: https://www.facebook.com/samensterkzonderstigma/
Twitter: https://twitter.com/zonderstigma