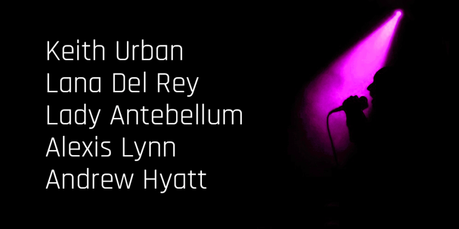 New Music from Keith Urban, Lana Del Rey, Lady Antebellum, Alexis Lynn, and Andrew Hyatt
There's a whole lot of great new music this week, so we're here with a second New Music Spotlight post to share with you all!
We've got country and pop from Canada, the United States, and New Zealand/Australia to get your ears perked up and your toes tapping. Give them all a listen, and leave a comment telling us which of these songs (including the double shot bonus) will be added to your playlists.
Ready? Let's go!
Artist: Keith Urban
Hometown: Whangarei, Northland, NZ
Genre: Country
Related: Thomas Rhett, Carrie Underwood, Dierks Bentley
Song: We Were
Notes: There's an air of excitement and anticipation from country music fans every time Keith Urban announces the release of a new song. With We Were, the hitmaker has once again given his fans something to cheer about and sing along with. The track seems to be the first from Urban's next album. And while we don't have the details on when that's coming, we're ready for it now!
Links: Web / Facebook / Twitter / Instagram / Spotify / Apple
Artist: Lana Del Rey
Hometown: New York, NY
Genre: Pop
Related: MARINA, Lorde, Azealia Banks
Song: Doin' Time
Notes: Yes, it's a cover. Yes, we love the original by Sublime. But guess what, we freaking love Lana Del Rey's cover of Doin' Time so much it had to make this list. Hit play, let it live on its own merits, and then if you want to double dip, go back to 1996 and the Sublime cut.
Lana Del Rey also came up this week when Palaye Royale named her as an artist that they've always wanted to collaborate with during our round of 5 Quick Questions.
Artist: Lady Antebellum
Hometown: Nashville, TN
Genre: Country
Related: Little Big Town, Miranda Lambert, Gloriana
Song: What If I Never Get Over You
Notes: We had the chance to listen to What If I Never Get Over You a few days early, and honestly, we couldn't wait for everyone else to hear it too! Lady Antebellum continues to wow us with the songs they release, the way their voices blend perfectly and stand alone in strength when needed. What If I Never Get Over You is another in a long line of smashes that we'll be singing along to for a long time.
Artist: Alexis Lynn
Hometown: Vancouver, BC
Genre: Pop
Related: Ariana Grande, Gabriela Geneva, Ruby Stinson
Song: Worst Behaviour
Notes: Alexis Lynn's new single, Worst Behaviour, gives us some real Ariana Grande vibes, and we're into it. The emerging Vancouver pop star keeps on pushing herself forward, working with new writers, producers, and finding new ways to make her mark. We're looking forward to what comes next.
Artist: Andrew Hyatt
Hometown: Sudbury, ON
Genre: Country
Related: Dallas Smith, Chad Brownlee, Shawn Austin
Song: Hang Around Kind
Song: Didn't Know Me
Notes: Fresh off the digital release of his Abel EP, Andrew Hyatt just dropped the first two songs from his upcoming (later in 2019) record. Hang Around Kind and Didn't Know Me do everything we've come to expect from Hyatt. As a songwriter he continues to be both personal and relatable, and his voice connects in a way that makes him one of our favourites in Canadian country music.