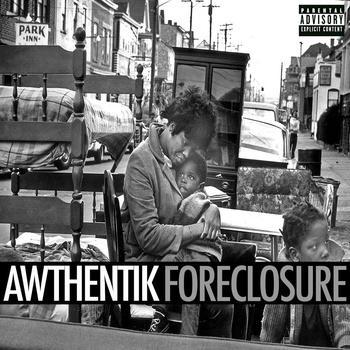 Maryland based Emcee/Producer "Awthentik" will be releasing his forthcoming album "FORECLOSURE" this Tuesday, September 13, 2011 in conjunction with Full Circle Collective and The High Definition Society.
Going under the radar for many years, people are finally starting to take notice of the gritty, grimy, vintage sounds coming from the small but productive basement of Awthentik.
With features from some of the DMV greats such Laelohood, Alison Carney, Incwell, Ethan Spalding of Violet Says 5, and new comers such as FCC's Kutta Bang, "FORECLOSURE" should shape up to be a great representation of real hiphop in the DMV.
All written and produced by Awthentik with a few production features from Arron Hardin, T-Mos, and a good chunk of dirty rhodes and organ riffs from keyboard player Pietro Smedley.
This album will be a updated formula but a  great time machine to take you back to a era when hiphop was culture and a lifestyle we lived. Music with aesthetic quality.
Be on the look out for FORECLOSURE, it will be released exclusively on
http://www.pleadthefif.com  | http://www.hdlife420.com   | http://www.fullcirclecollective.com
38.073533
-75.560779