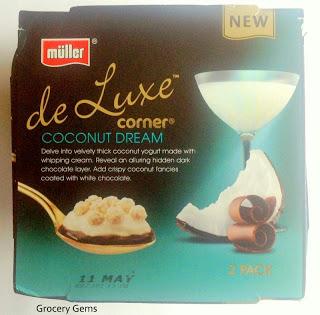 A few months ago I reviewed a new range of super cute Müller Corner yogurts aimed at kids. This month sees the release of an altogether more grown up and sophisticated version in the Müller de Luxe Corner range. There are four flavours to choose from; After Dinner Mint, Marc de Champagne, Creme Praline, and Coconut Dream. Even though I was very tempted by the Creme Praline, there was no real dilemma over which variety I was going to try first!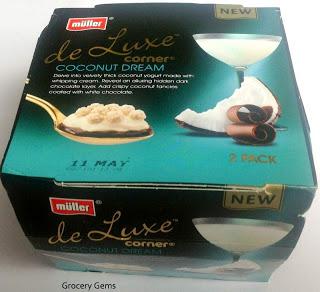 The Coconut Dream is described as a "velvety thick coconut yogurt made with whipping cream... an alluring dark chocolate layer... and crispy coconut fancies coated with white chocolate". It's almost as if the people at Müller who develop their new flavours, read my mind, and came up with this flavor just for me. Although judging by the reaction of the lady at the checkout who scanned this, it's pretty much her dream flavor too. Seriously I've never seen anyone react in an "OMG where did you find this!! I've got to buy it as soon as my shift finishes" way before. But as a fellow coconut addict - I totally GET that reaction!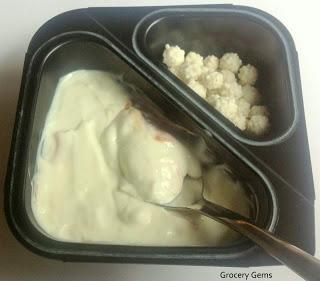 Inside the pot is a coconut flavoured yogurt that sits on a dark chocolate layer, with a serving of white chocolate coconut balls on the side. The yogurt is filled with dessicated coconut, and has an extremely velvety and creamy texture. The scent from the yogurt is just pure sweet coconut, and the rich coconut flavor doesn't disappoint. The dark chocolate layer is essentially a silky sauce that adds an extra indulgent feel to the yogurt. The white chocolate pieces on the side have a crispy cereal type of texture to them and are also flavoured with a very subtle coconut. Overall, this is a very decadent and luxurious yogurt (which is reflected in the calories) and makes a lovely chilled dessert in it's own right.
The Müller De Luxe Yogurts come in twinpacks and at the moment they are on special offer in Sainsbury's for £1.00. I'd like to see these in a multipack format too, with a a variety of the flavours included.



I must thank Becca @beccasparkles13 who mentioned this new range of yogurts on Twitter. Thanks again Becca!!
Check out a review of the Müller De Luxe Marc de Champagne Corner Yogurt on Foodstuff Finds.
Grocery Gems Verdict: Müller De Luxe Coconut Dream Corner Yogurt 
RATING

: 8 out of 10.


Buy them again? Yes, as an occasional treat rather than an everyday yogurt. 
Purchased

:

 Sainsbury's


Nutrition: 187 calories, 3.1g protein, 21.8g carb, 9.5g fat.
Vegetarian: No - contains gelatine.