I was recently sent a few packs of the new and limited edition McCain Roasted Garlic Potato Wedges to review. They're described as being made from specially selected potatoes and seasoned with roasted garlic for an added punch of flavor.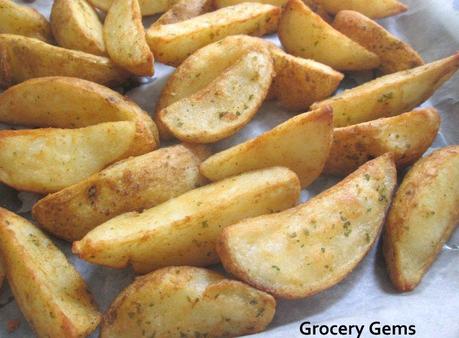 Even before I had opened the packet to put them on a baking tray, I could smell the appetising roasted garlic from these wedges. They are unmistakeably garlicky! Once cooked they had a lovely golden colouring and appearance, consistent across all the wedges. The texture was crispy on the outside but still fluffy on the inside. The garlic flavor in these is just wonderful too, it has the robust and slightly sweet flavor of a roasted garlic, without being too overpowering. These are definitely the ideal potato wedges for serving up in a big bowl with some dips - they are especially gorgeous with extra garlic mayo on the side! 
Grocery Gems Verdict: McCain Roasted Garlic Potato Wedges
Rating: 9 out of 10Purchased: Available at all major supermarkets.Price: £2.00 (currently on half price £1.00 offer in Tesco).