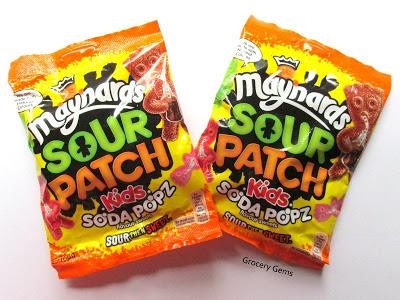 Maynards Sour Patch Kids were released in the UK late last year (see my previous review here) and by the looks of things they've been very successful as they've already added this new Soda Popz variety to the range. I've been trying to find them ever since I heard they were being launched so I was very lucky to be offered the chance to try some packs. For anyone else looking, Kev's Snack Review has managed to find them for sale already in Morrisons.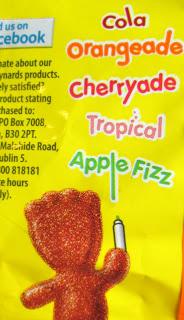 There are five different flavours in each packet, all based on popular soda drinks; Cola, Orangeade, Cherryade, Tropical and Apple Fizz. It's a great selection of fizzy flavours!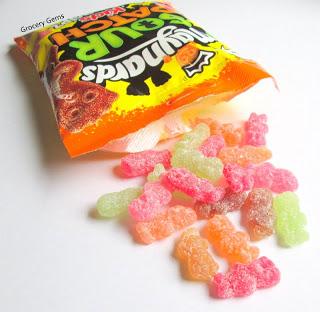 Just like the regular Sour Patch Kids sweets these are described as "Sour then turning Sweet". This is because they're coated (liberally!) with a sour sugar coating that dissolves quickly, leaving behind the inner sugary sweet flavor. It's a great idea and the overall sweetness means they're especially enjoyable for those that don't usually like sour sweets.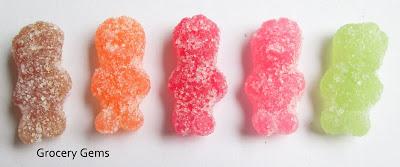 I love the look of the Sour Patch Kids sweets - they're just like Jelly Babies but with a teenager spiky haircut. So it's probably fitting that as the jelly teenagers of the sweetie world they're now available in soda flavours! The Cola is the most sour of the five, as the fizzy flavor seemed to last the longest before the sweetness kicked in. The other flavours were a lot sweeter and not really that sour. The Orangeade, Cherryade and Apple Fizz are quite sour tasting at the start, but that is immediately followed by their sweet fruity flavor. The Tropical flavor was interesting, but quite hard to pin down the exact fruit - it just has that vague tropical taste!
Overall, the five flavours are all extremely moreish and tasty. I also like the fact that these are made with all natural colours.
I was sent this product from their PR company for an honest review and all views are my own.
Grocery Gems Verdict: Sour Patch Kids Soda Popz

RATING: 7 out of 10. Buy them again?: The kids love them - so yes!


Nutrition (per 8 sweets)

: 80 cals, 14.0g sugars, 0.1g fat
Vegetarian: Not suitable.