Hi Everyone,
It has been a while since my last post and I apologize for that. I have been trying and testing a number of products in order to give you some good reviews which are coming up in the very near future. In the mean time I thought I would share with you my new makeup storage and organisation. My collection has been growing for sometime now so I had to invest in new storage. My boyfriend and I took a trip to our local ikea this week and as I had heard such great reviews about the Ikea 'Alex' collection amongst the beauty community I was desperate to get my hands on one of their chest of drawers. The 'Alex' comes in 2 sizes in this style, either 9 or 5 drawers. Originally I opted for the 9 however whilst picking it up I spotted the smaller one and opted for that instead, which was a slight pal-lava as I picked up the wrong one, cue some debating with the shop assistant I finally had to admit I was wrong, she was right and change it, but we got there in the end :)!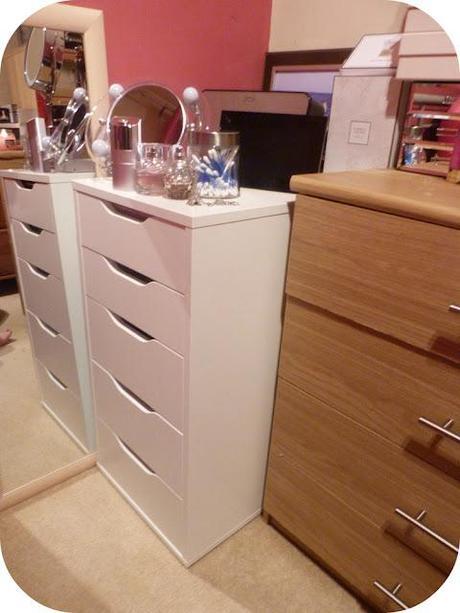 The Alex 5 drawer has 2 smaller drawers and 3 larger drawers at the bottom. They also go back really far and come out all the way so you can easily access things at the back. To view where to buy the drawers click here. It costs £55 and is really easy to put together. 
At the moment I have only filled 4 of the drawers, so it was probably a blessing that I opted for the 5 drawer and not the 9 as I would have felt inspired to fill it with more products :) which is not good for my bank balance!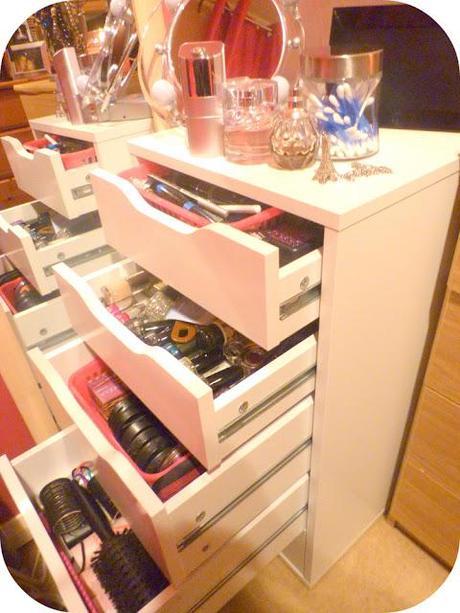 I like to keep all my items organised by products. I got these small plastic baskets from Tesco for a couple of pounds and luckily they fit perfectly into the smaller drawers. 
So in the top I have my 'eye' products. This is everything from mascaras, to single eyeshadows and eyeliner and brow products. Then I have my 'lip' products which includes all my glosses, lipsticks, liners and balms. I know some people like to go even further but I honestly do not have the room.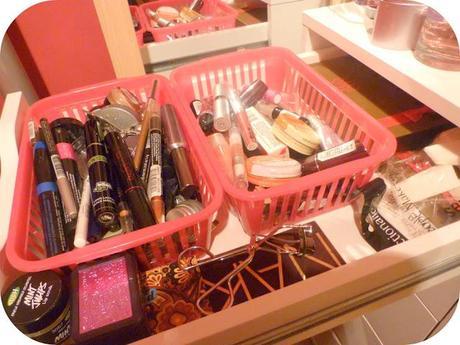 I also have my UD Naked palette and other miscellaneous palettes and some random eyelash curler and sponges. 
In my next draw is nail products. All my polishes and removers, files and clippers etc. I know this is a little random to go from the above to this however I needed one of the shallower drawers for these. I also got from Ikea some plastic non slip drawer liners which was perfect for this drawer as you literally cut it to shape and place in the drawer and it prevents your items from slipping around!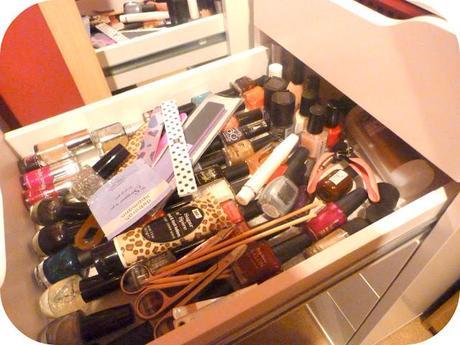 Next is face products. One tray holds all my bronzers, blushers, highlights and contour kits and the second has all my foundations, concealers, powders and primers. 
At the back I have another 'random' tray filled with miscellaneous face masks and creams etc which I use often but not on a regular daily basis. 
And finally...my 'hair drawer' this has all my brushes and combs, all my hair care products such as conditioners, spare shampoos, oils, heat protectants, etc etc...  I have actually downsized this drawer in a massive clear out whilst organising this so this is a lot smaller than it was :)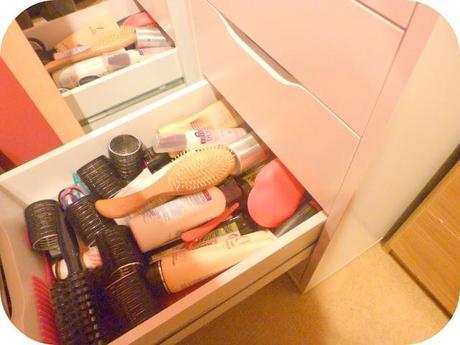 Well that is it for my 'little' storage post. Thank you for reading and I hope you enjoyed. If there are any products that you have seen that you would like to know more about please comment below or tweet me @beckysMABBlogs as i'd love to hear from you. Also if you have any ideas and tips for storage then please let me know!