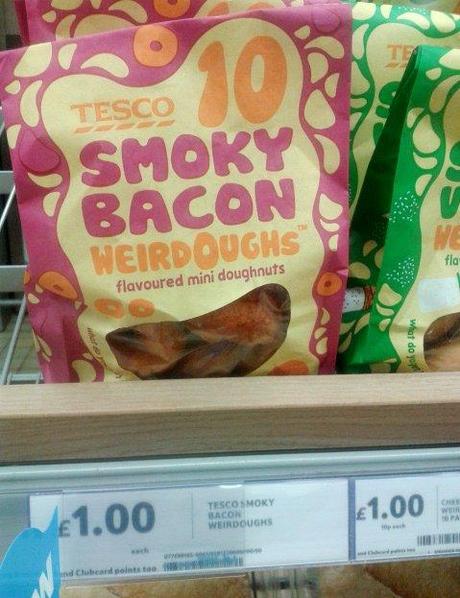 A quick post today with a few new and limited edition products that I've spotted instore recently. Considering the time of year I was disappointed at the lack of autumnal themed products in the supermarkets. It would be great to see just a few pumpkin spice or cinnamon spice limited editions. As always let me know in the comments if you've spotted anything new instore or if you've tried any of the products I've featured below.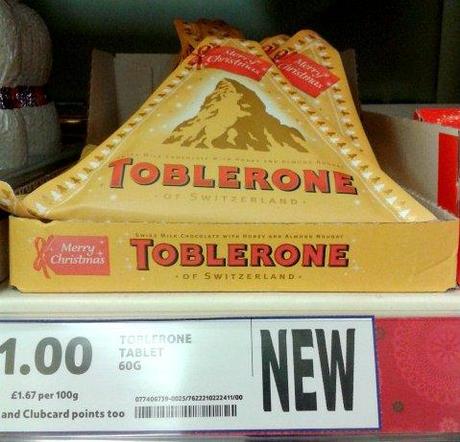 Toblerone Merry Christmas Tablet: I might as well start with a couple of Christmas products since most supermarkets seem to jump straight from summer to Christmas, ignoring Autumn altogether. This Toblerone Merry Christmas tablet features a new format for Toblerone, it's a large flat chocolate with snapable triangle shaped segments. £1.00 at Tesco.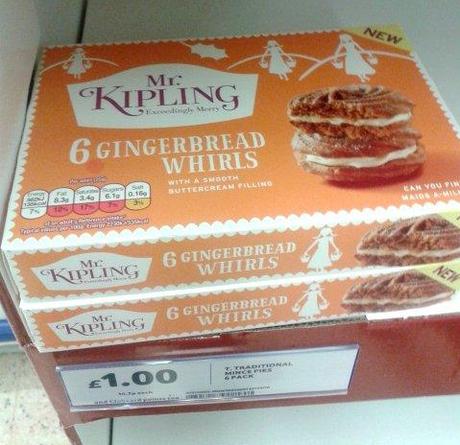 Mr Kipling Gingergread Whirls: Even though I dislike Christmas products appearing in the supermarket so early, and usually refrain from buying any until at least late October, I have to admit I'm really tempted by these Gingerbread Whirls! I might have to give these an early try. £1.00 at Tesco.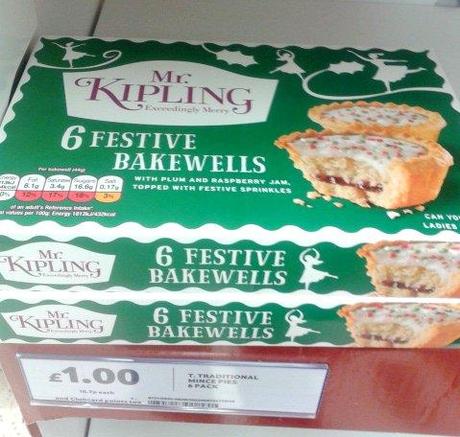 Mr Kipling Festive Bakewells: These Festive Bakewells aren't exactly new, but they do have a new look for 2014. Instead of a little Christmas trees on the icing, these are covered in "festive sprinkles". £1.00 at Tesco.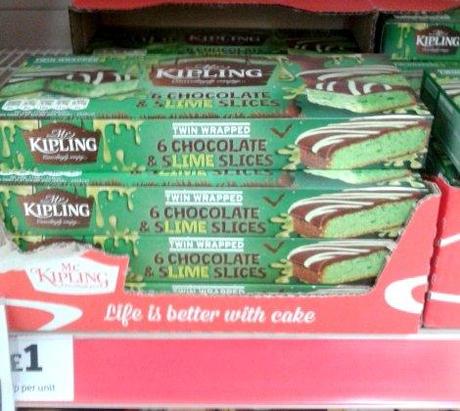 Mr Kipling Chocolate & Slime Slices: I've only spotted one new Halloween themed product instore, these Mr Kipling Chocolate & Lime Slices. I expect there will be more Halloween products hitting the shelves in a few weeks time. £1.00 at Asda.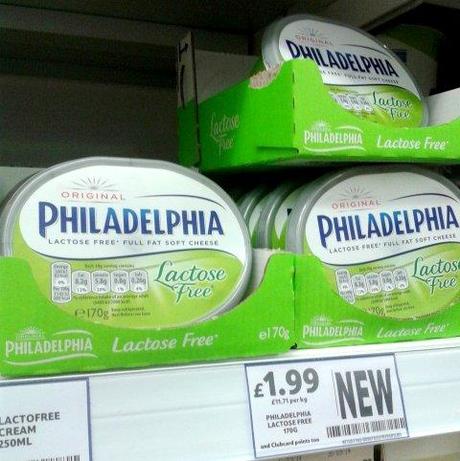 Philadephia Lactose Free: I know that the Lactofree brand already make a cream cheese spread but I was still pleased to see this version from Philadephia. There was also a half fat version too. £1.99 at Tesco.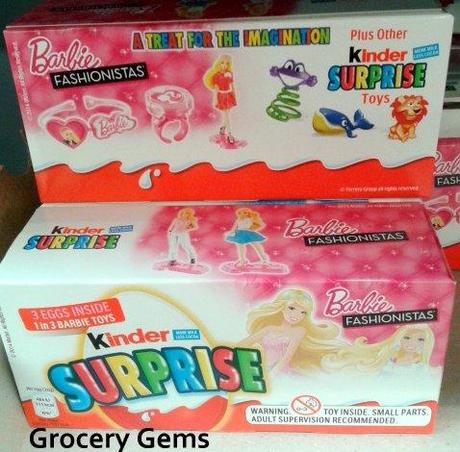 Kinder Surprise Barbie Fashionistas: The Kinder Disney Princesses range from earlier this year was incredibly popular and it's a shame that these surprise eggs are now Barbie themed again. Good news for Disney fans though is that there is a Disney Fairies Kinder range coming soon. £1.89 at Tesco.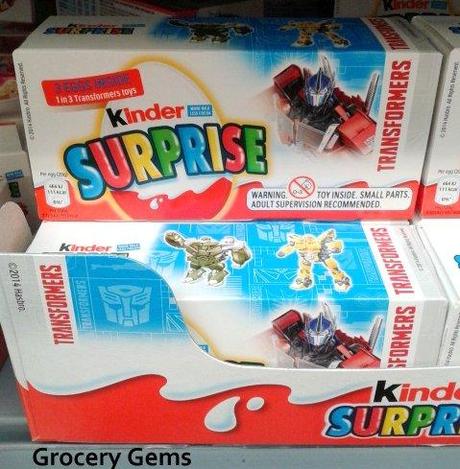 Kinder Surprise Transformers: These are a worthy follow up to the previous Marvels Heroes theme. I know my kids would like to collect these (and probably my husband too!) but I'll wait until I see the individual eggs rather than these Triple Packs as they only contain one Transformers toy out of the three eggs. £1.89 at Tesco.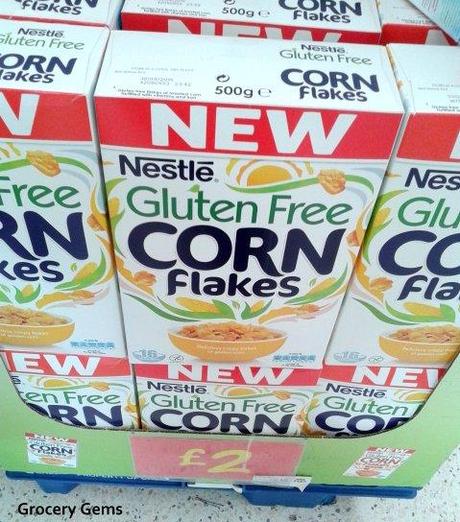 Nestlé Gluten Free Cornflakes: Interesting to see a major brand offering a gluten free version. There was also a Nestlé Gluten Free Cornflakes with Honey variety available. £2.00 at Asda.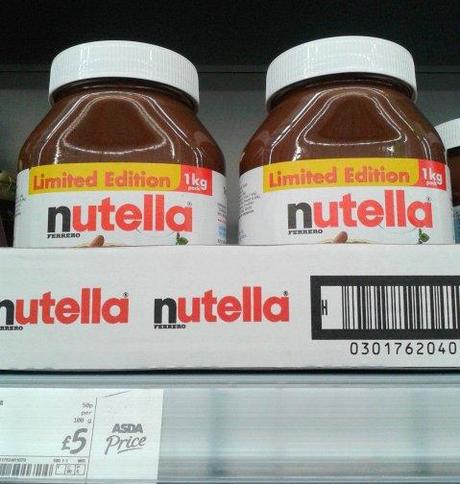 Nutella Limited Edition 1kg: Anyone with willpower issues look away now! I know this massive Nutella jar has been available before but I personally haven't seen it in my local supermarkets. Anyway, I don't think I could be trusted with a 1kg jar of Nutella in the house! £5.00 at Asda.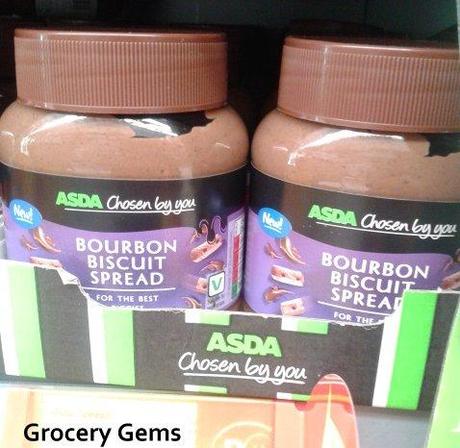 Asda Bourbon Biscuit Spread: I wonder if this means Asda will also be selling a Custard Cream spread like Tesco? £1.30 at Asda.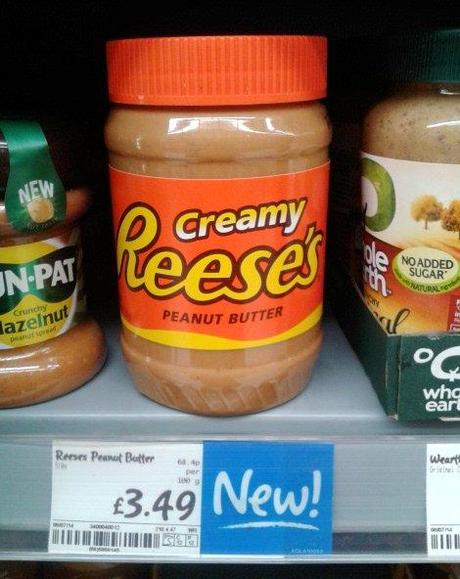 Reese's Peanut Butter: I was quite tempted by this one! £3.49 at Asda.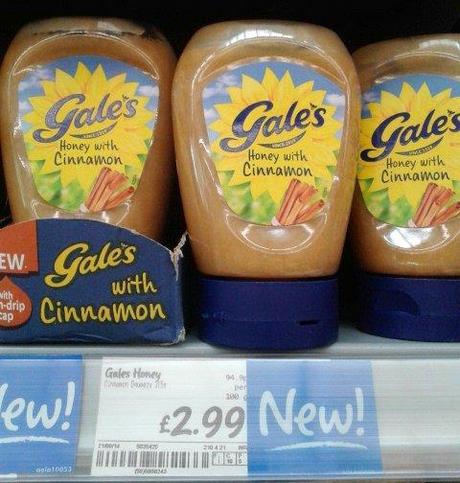 Gale's Honey with Cinnamon: At least I managed to find one new cinnamon product. I love the idea of this Gale's Honey with Cinnamon on porridge during the winter months. £2.99 at Asda.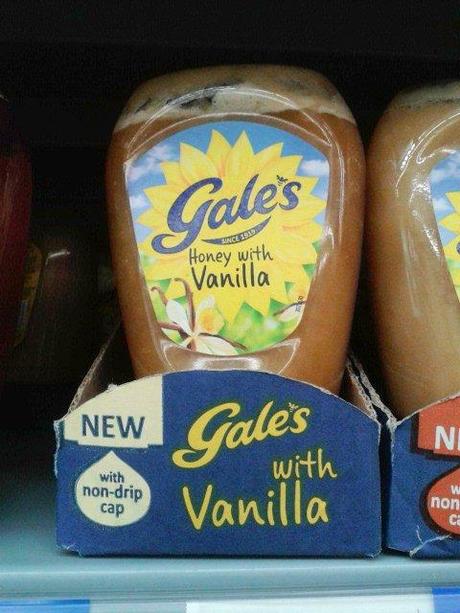 Gale's Honey with Vanilla: This vanilla flavoured honey also sounds delicious. I'll probably try these at some point, especially the cinnamon variety. £2.99 at Asda.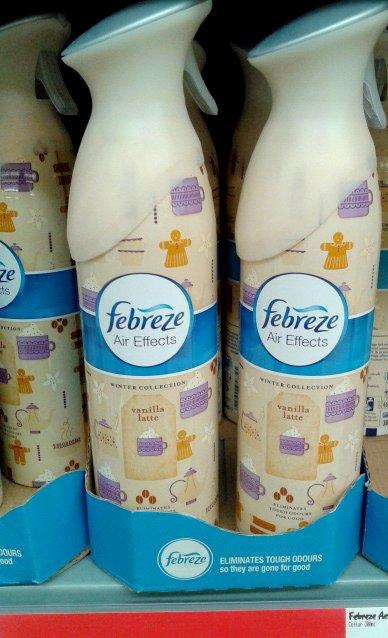 Febreze Winter Collection Vanilla Latte: A solitary non-food item for this round-up, but I was quite surprised by this offering from Febreze. Vanilla Latte seems like such an unusual scent for an air freshener. £2.00 at Asda.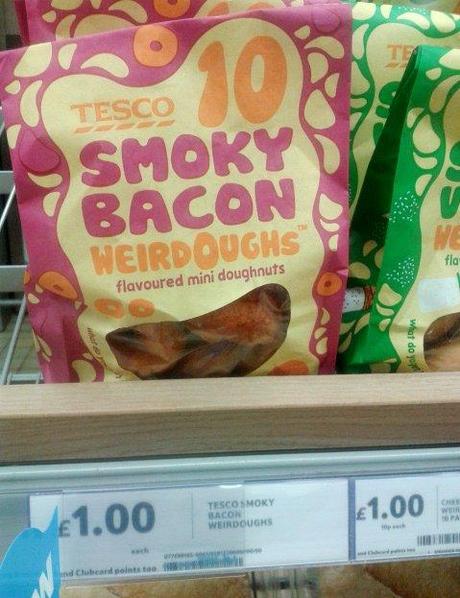 Tesco Smoky Bacon Weirdoughs: Bacon flavoured doughnuts? Even though these bacon flavoured mini doughnuts sound more appealing than the other flavours in the Tesco Weirdoughs range (cheese & onion and salt & vinegar), I'm still going to take a pass on giving these a try. £1.00 at Tesco.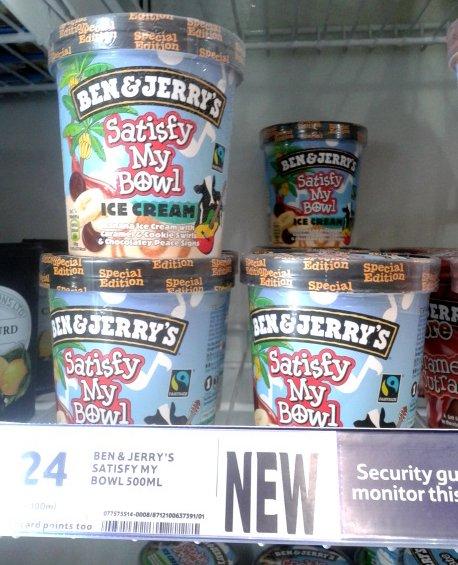 Ben & Jerry's Satisfy My Bowl: If you follow me on Facebook or Instagram then you've probably seen my enthusiastic posts about this new ice cream from Ben & Jerry's. Inspired by Bob Marley, it's a combination of banana (yes!!) ice cream, caramel and cookie swirls, and chocolate peace signs. The good news is that it's currently on a half price offer at Tesco for £2.24. Review coming soon.
And to finish here are a few celebration cakes at Asda that are new since the last time I blogged about their cakes (in May).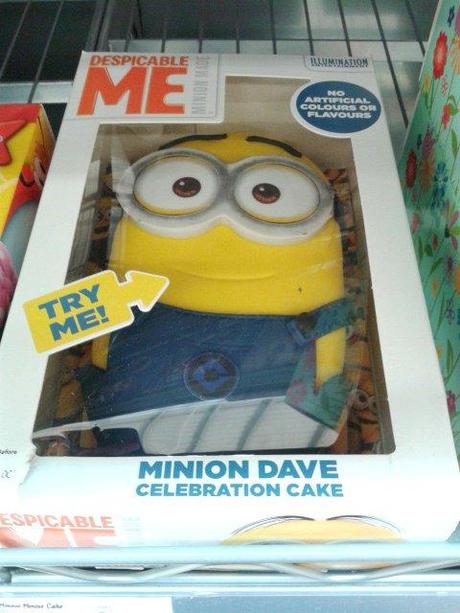 Despicable Me Minion Dave Celebration Cake: This is such a great looking cake, perfect for fans of the Despicable Me films. £10.00 at Asda.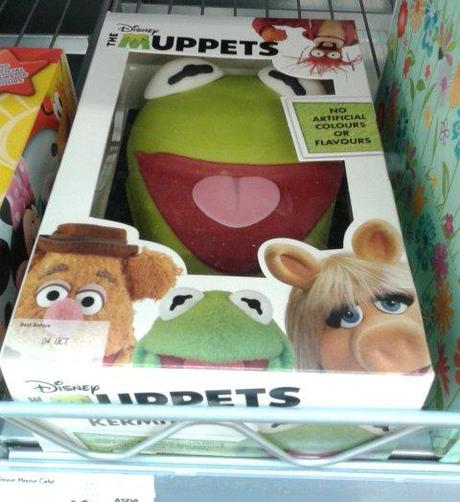 Muppets Kermit Cake: This cake also looks good - I'm a real fan of the last few Muppets films! £10.00 at Asda.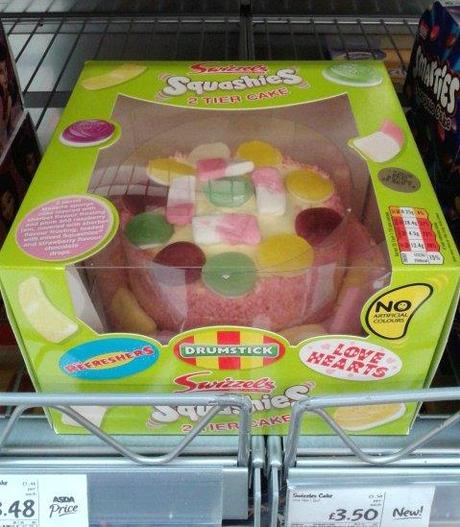 Swizzels Squashies 2 Tier Cake: A cake for anyone with a seriously sweet tooth! Asda (not sure about exact price).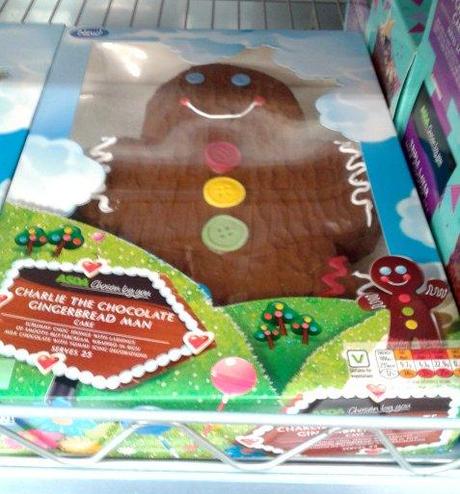 Charlie the Chocolate Gingerbread Man Cake: I'm not sure if this large cake is actually gingerbread flavoured or just a chocolate cake in the shape of a gingerbread man. Either way it's an adorable looking cake. £10.00 at Asda.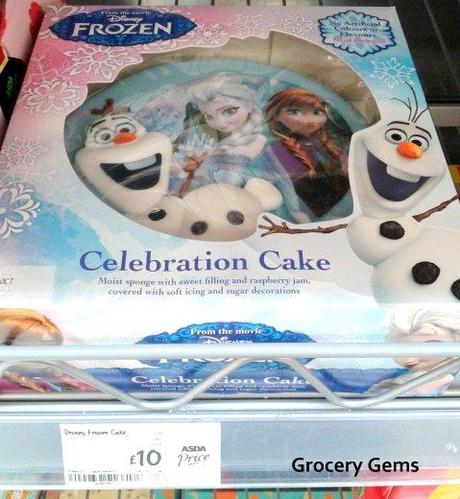 Disney Frozen Celebration Cake: A pretty cake for any Disney Frozen themed birthday party. £10.00 at Asda.
There were also a few other new cakes that were sold out, including a Mankini Cake, an M&Ms Sofa Cake and of course the new Asda Piñata Cake (see my review HERE). Let me know if you spot any interesting new products instore in any of the supermarkets - I love hearing about them! grocerygems@gmail.com