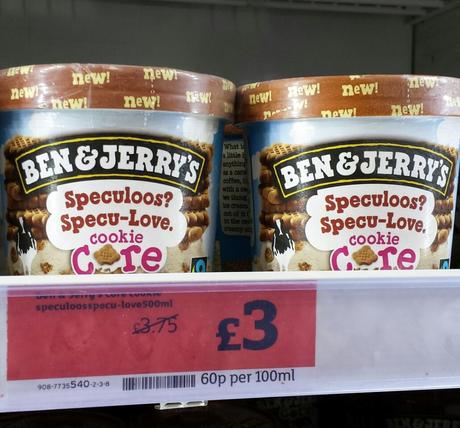 A round up of new products spotted instore - let me know in the comments if you've tried any of these!
Ben & Jerry's Speculoos? Specu-love Cookie Core: Any regular readers will know how much I love Speculoos as a flavor. I'm barely over the excitement of the Krispy Kreme Biscoff doughnut and along comes another awesome speculoos biscuit inspired product. There are two other new varieties available in this Cookie Core range; What-a-Lotta Chocolate Cookie Core and Utter Peanut Butter Clutter Cookie Core. I'm sure I'll try those last two eventually but look out for my review of the Speculoos variety soon! £3.00p at Sainsbury's.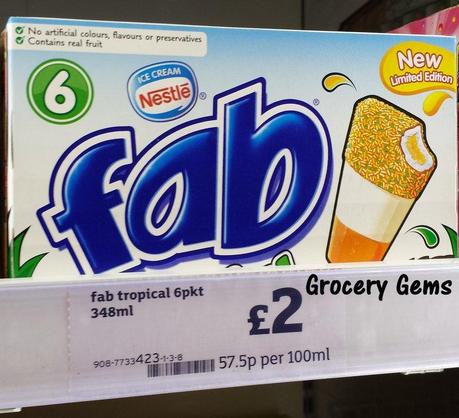 Limited Edition Fab Tropical: I didn't get the best picture of the box - it shows lots of tropical fruits along the bottom. I'm a fan of the Fab range, especially during the summer, as it's a relatively low calorie choice for an ice cream/lolly and I'm looking forward to trying this new Tropical variety.  Review coming soon! £2.00p at Sainsbury's.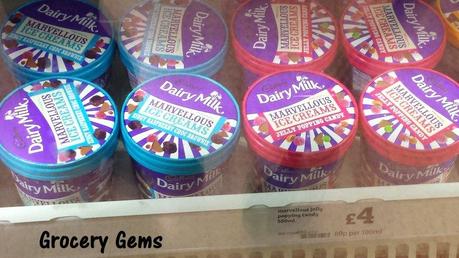 Cadbury Dairy Milk Marvellous Ice Creams: For some reason I'm not that excited about these ice creams from Cadbury, and I wasn't really tempted to buy them at £4.00p a tub. The flavours above are; Zingy Raspberry Choc Brownie and Jelly Popping Candy. The first one doesn't sound too bad but I think I'll pass on the second one. £4.00p each at Sainsbury's.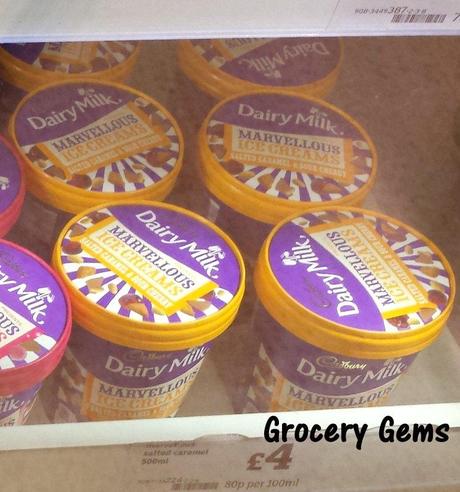 Cadbury Dairy Milk Marvellous Ice Creams: There was also this yellow tub which is a bizarre Salted Caramel & Sour Cherry concoction. I was disappointed that this wasn't a banana ice cream instead! If you try any of these varieties then I'd love to hear from you in the comments below. £4.00p at Sainsbury's.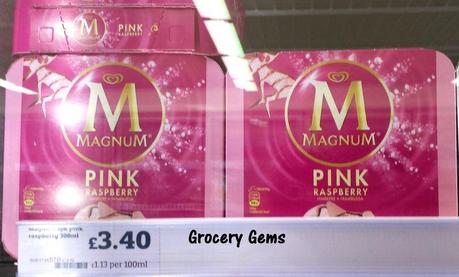 Magnum Pink Raspberry: I've posted about the new Magnum Pink and Magnum Black before. I had heard that they were available at Tesco but I haven't been able to find them in a Tesco near me. I finally spotted them today in Sainsbury's at £3.40p.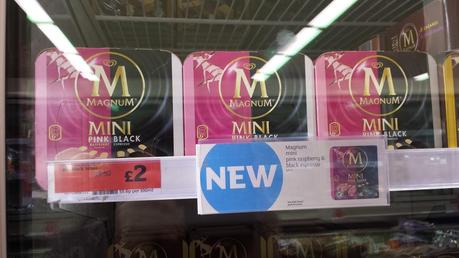 Magnum Mini Pink & Black: I was hoping that the new Magnum Pink & Black would be available as Mini version but I didn't expect to find them both in a Multipack too. I much prefer the mini sized Magnums, as I find the large ones a bit too much to eat in one go, but the smaller sizes are perfect. I picked up a pack of these too - my freezer is now well stocked with ice creams! £2.00p at Sainsbury's.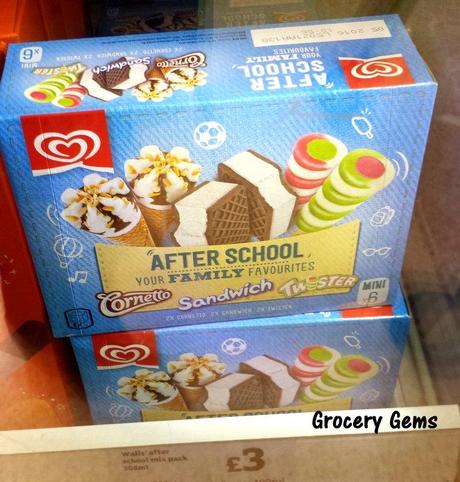 Walls After School Family Favourites: Not new, but an interesting new rebranding as "after school" snacks for this selection of classic Walls ice creams. £3.00p at Sainsbury's.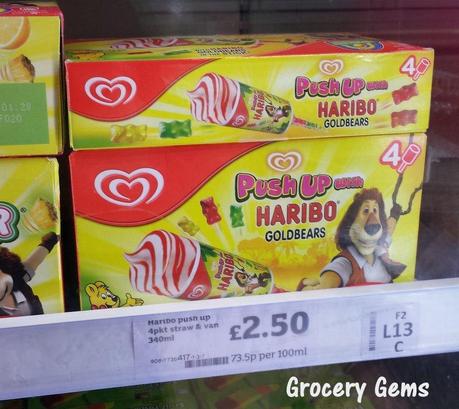 Walls Push Up with Haribo Gold Bears; I think these have been available individually in freezer cabinets and from ice cream vans but I don't remember seeing them for sale in a multipack before. I wonder if they are replacing the Walls Haribo Dino Candy Ice Lollies? £2.50p at Sainsbury's.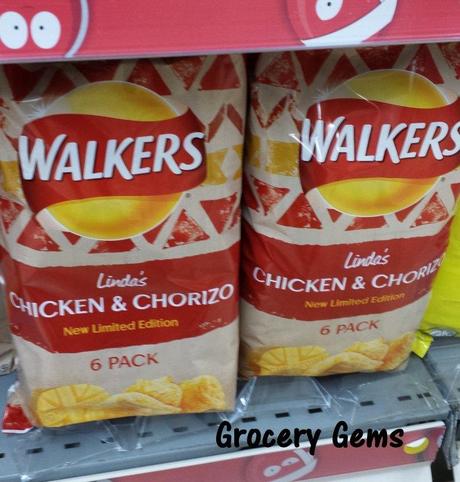 Walker's Limited Edition Linda's Chicken & Chorizo: I can't find any information about these but they don't seem to be part of any new Walker's flavor competition. I tried these today and they're very tasty with a distinctive smoky chorizo flavour, I'll have a full review soon. £1.50 at Sainsbury's.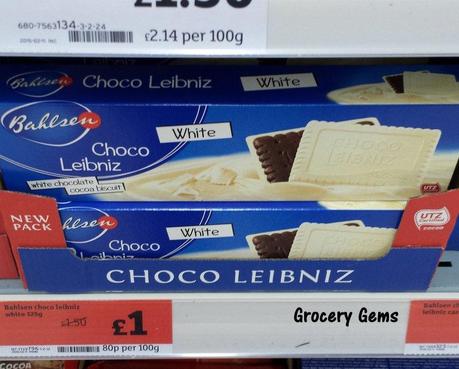 Bahlsen Choco Leibniz White: These are white chocolate covered cocoa biscuits. I've tried the Choco Liebniz Milk Chocolate and Caramel varieties before but never this White chocolate version. I picked up a pack while they're on special offer. £1.00p at Sainsbury's.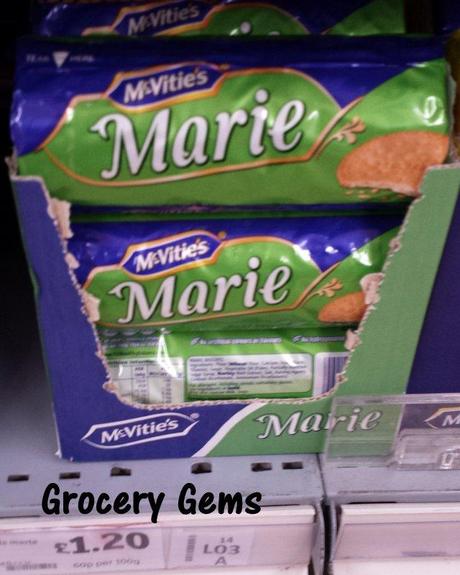 McVities Marie Biscuits: I was quite surprised to see McVities branded Marie biscuits in the UK. Marie Biscuits (also known as Maria in Spain/Portugal) are the European version of Rich  Tea biscuits. They have a slightly different taste and I always used to pick up a few packs on holiday. At least McVities didn't release their Finger Marie version here in the UK! £1.20 at Sainsbury's.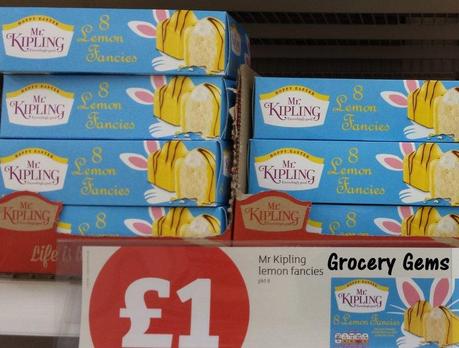 Mr Kipling Lemon Fancies: Once again there are lots of lemon and orange flavoured cakes for Easter. I'll refer you my post last year "New Instore: Easter Cakes" as I spotted most of the same products - just with different packaging. Also back are the Mr. Kipling Lemon Whirls and Mr Kipling St. Clements Slices. £1.00p at Sainsbury's.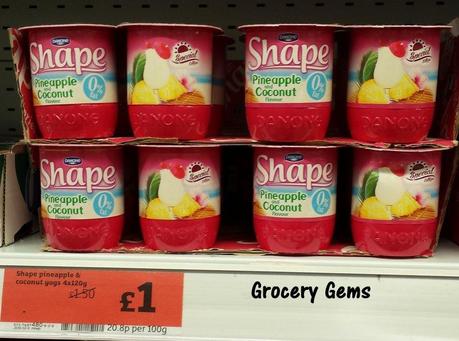 Shape Pineapple & Coconut Special Edition: A tropical inspired 0% fat yogurt with 63 calories per pot. £1.00p at Sainsbury's.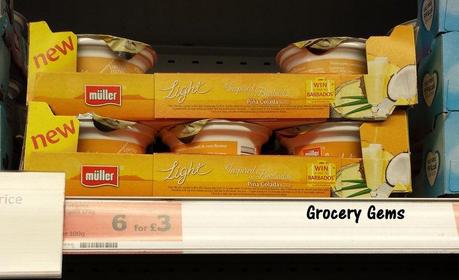 Müller Light Inspired by Barbados Piña Coloda: This is quite similar to the Müller Light Inspired by Bali yogurt from last year, except with added Rum flavour! £0.70p each at Sainsbury's.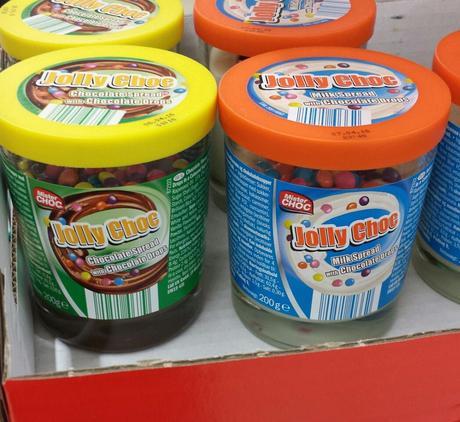 Lidl Jolly Choc Spreads: I'm not sure if these are exactly new but it's certainly the first time I've seen them. These are chocolate spreads with added chocolate drops - basically mini Smarties - in either Chocolate Spread or Milk Spread. They're available this week as part of the Lidl "Taste of the USA" promotion. £1.29 at Lidl. £0.99p each at Lidl.
Don't forget if you spot any new products in store please let me know via email - 

[email protected]

. Thank you!