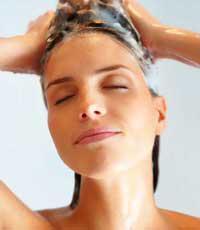 Practice What You Preach
In case you haven't noticed yet, I am a huge advocate of trying new things.  Recently, I had the chance to expand my knowledge and crafting skill to a new level.  Spoiler Alert:  I am in love!
With all the fun and exciting recipes that are filling up Natures Garden's recipe box on the homepage, I decided that I would take a chance and try something new myself.  I was quite intrigued by several of the recipes; however, I wanted to choose something that was going to be a little challenging.  It was while I was looking over the various recipes that I realized I have actually never made anything bath and body from scratch.
We have been working with Kim (our CP tester) from Natures Art for the last few months, so I decided that I was going to try one of her recipes.  As I am sure that you can already tell by the picture, I selected the conditioner recipe to try my hand at.
Embarking on a new creative journey, I anxiously prepped my crafting area, read through the directions (another spoiler alert… super easy), and grabbed all of the supplies that I needed.   Wow, making homemade conditioner is quite rewarding.  The most time consuming part of the whole recipe was the boiling aspect.  After that is was amazingly simple.
As soon as I finished, I rushed to the bathroom to quickly wash my hair and give the conditioner a try.  The silkiness and warmth (since I had literally just finished making it) was heavenly.  Not only did my hair smell amazing (I used Vandra Orchid Fragrance Oil), but I was really taken back by the lack of tangles.  My hair is quite lengthy and on the thin side, brushing it after a shower has been something that I've hated to do since I was a small child.  However, with this new conditioner… I was able to comb straight through, no brush required.  Not wanting to count my chickens before they hatch, I waited to see how my hair felt after it had dried… my results were that my hair had never been so shiny and soft.
Mad kudos to Kim Sanchez of Natures Art for the fabulous recipe.  I was so excited about this new product that I decided to share it with all 5 of my sisters; and needless to say I will be hosting a conditioner party at my house this weekend. I am even going to make special conditioner for my girls scented in the fun Fruity Rings Fragrance Oil.  They are going to love it!
This recipe is one that I highly recommend to everyone.  It is easy, has very few ingredients, and is definitely worth the time and effort.  Plus, for an added bonus, after you are finished testing your new hair conditioner; may I suggest jamming to Willow Smith's Whip My Hair for added fun!  It is a blast!
Have hair that is sleek, sexy, sassy, and smells sooooo good.
To view the recipe (you know that you want to), click Aloe Cucumber Hair Conditioner.  Feel free to swap out the Cucumber Aloe fragrance oil for another, just pay attention to the IFRA percentage for safe recommended usage.
If you are interested in other fun recipes, check out the recipe box on Natures Garden Homepage.
Fragrance & Fun for Everyone
Inspire, Create, and Dominate!
Sparkles!!! Nicole
(Corporate Manager of Natures Garden Candle Supplies)