I'm not a super creative person.  I get something figured out and forget to play around with it, to rethink it, to improve it.
Same goes for kombucha.  I love the stuff and drink it daily.  If you want to learn to brew your own or just find out just exactly what it is, I have a post with all of the necessary supplies, as well as a step-by-step tutorial on how to make it, for pennies.
Anyhow, I've been stuck on flavoring it with organic strawberries for months now, and finally decided to spice it up a bit.
I threw a few basil leaves in one batch, and some mint leaves in another in addition to my regular strawberries.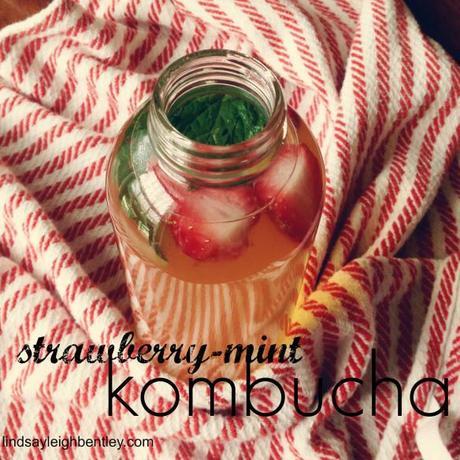 Oh, holy scoby y'all.
So, delicious.
The basil is amazing.  I love the kick that it gives the strawberry and my love for fresh herbs is fully satisfied with this brew.  The mint is fantastic and super fresh tasting, almost like a mojito…I grow both of these in my little herb garden so I plan to add them in from now on.
I also have rosemary out there…may give that one a try too.
As soon as the lavender has been harvested (there are a few vendors that sell it at the Farmer's Market here) I'm throwing a bit of that in there to try as well…so many options.
This just might pull the creative gene out of me after all.
What flavors have you experimented with?
live well. be well.