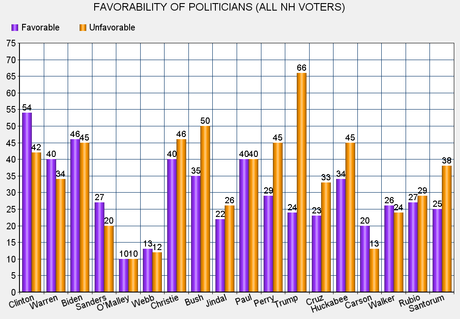 In the past few days, I brought you two New Hampshire polls on next year's presidential race -- the NH1 Poll and the UNH / WMUR Poll. Now a third poll has been released on New Hampshire opinions -- the Bloomberg Politics / Saint Anselm College Poll done between January 31st and February 5th of a random state sample of 953 likely voters (and the base sample had a margin of error of 4.4 points).
As part of their oversample, they questioned 400 Republicans and 400 Democrats on who they would likely support in their party's primary (and each sample had a margin of error of 4.9 points). I include the charts below for those who want to see those numbers. But suffice it to say that this poll just verified what the other two showed -- that there is no real leader among Republicans, and Hillary Clinton has a prohibitive lead among New Hampshire Democrats.
I found the top chart to be the most interesting aspect of this survey. It shows what the entire sample of all voters (and all political persuasions) thought of all the possible candidates -- both Democratic and Republican. The numbers are the favorable and unfavorable ratings for each candidate. It shows that nearly all Democrats have a higher favorable than unfavorable rating among the general public, while the opposite is true of most Republicans.
It looks like the Republicans have a lot of work to do in New Hampshire, if they hope to win that state.