Do you remember my
Fringe Benefit post
, where I was shamelessly obsessing over fringed haircuts that some lovely bloggers and celebrities sport. I finally got a hold on all my insecurities and fears and did it!!
Some of you who are blessed with hair that grows at a rate of 5 inches per day, might not understand what the fuss is all about. However, those like me who oil their hair everyday and try all kinds of magic oils, just in the hope that their hair would grow even a millimeter would understand. Its about being stuck with something you hate, even if it is just for a few days, trust me those few days can have a soul crushing impact for life. Yes, a bad haircut can be that serious.
Here is how it went down..
I have had a fringe for a few days now and I have to honestly say that I have no regrets. Do I love it always? No!! Do I hate it ever? No, but I do love it on most days.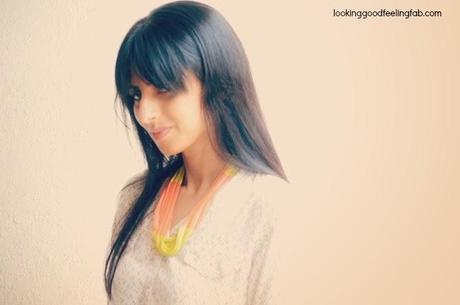 Pros
Its the easiest way to glam up a little without having to play with curling wands, straighteners and juggling paddle brushes and blow dryers. Honestly, I an pretty lazy in that department, I just never can get myself to spend an hour doing up my hair. But, I also know that glam hair is the easiest way to glam up the drabbest of looks..so a fringe is great. Run a comb through it an you are good to go.
And on days when it comes in the way, like when you are trying to watch "Breakfast at Tiffany's" and taking notes about every detail of her classic looks - all you can see is strands of your hair..well on those occasions, just use some cute pins or a hairband.
Cons
Regular haircuts required, cannot possible have one just once in six months!! (It might be a blessing in disguise)
I would not recommend trying it for the first time during the sweltering scorching summer heat.
Other than that all good...let me know what you thing..
Love
Abhilasha
want to look good and feel fab always?? Join us lookingoodfeelingfab.blogspot.in