For me one of the biggest perks of blogging is getting to know some of the most stylish, inspiring and intelligent women around (they mostly happen to be bloggers :)
A while ago I came across Nilu's wonderful blog
Big Hair Loud Mouth
and I have been smitten since. She has this unique interesting way of putting things together and making it all look wonderfully cohesive. I have spent many enjoyable hours lost in her colourful world and I always emerge inspired and excited to try some new things myself.
Whenever I come across a new blog, I go to their very first post, just to see the evolution and how far they have come, Nilu has come such a long way and her entire journey is beautiful, bright and wonderful.
Nilu was kind enough to answer some of my questions and I wanted to share them with you...so here goes..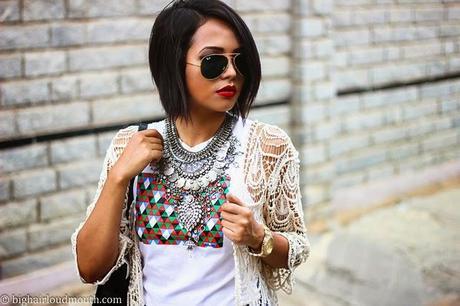 1. Tell us a little about Nilu, what have you studied, where? What industry do you work in? What are your passions other than fashion?
Nilu is the dreamer of Big Hair Loud mouth, a blog dedicated to exhibiting Streetstyle fashion in India, incorporating both the Western and the Eastern trends. I was educated in Kalimpong, Darjeeling and later I got my BE degree in Electronics and Electricals from VTU Universtity in Bangalore. I currently work in Yahoo!Bangalore and my passion other than fashion would be singing, dancing and trying DIY projects (which I fail at miserably).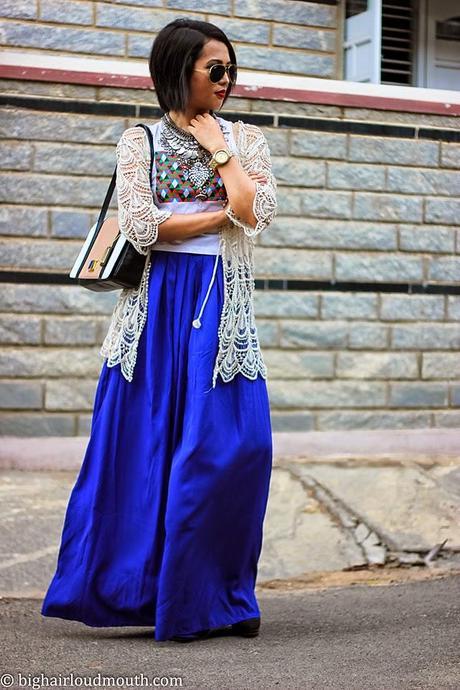 2. How did the blog come about? What was the inspiration?
I used to see a couple of my school friends post on Facebook, that they had blogged and it made me curious. When I checked their content I thought "this is so interesting" and I wanted to try it. There was no inspiration to be really honest, I'm a shopaholic and I thought why let a good look go waste when I can document it in a blog post! The thought made me feel good and so Big hair Loud mouth was born.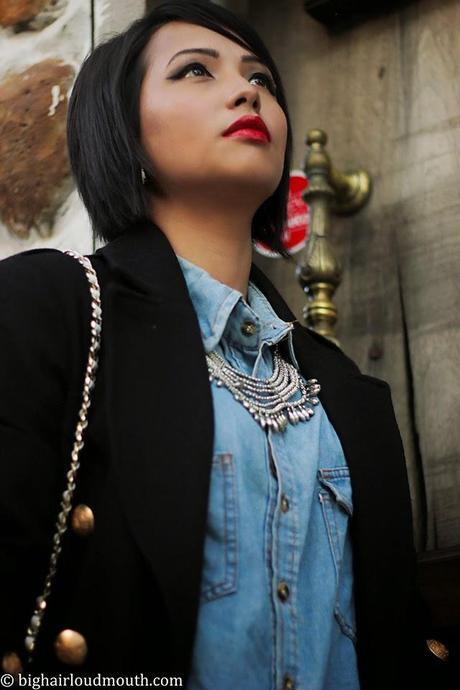 3. You started out as a very sweet and simple looking girl with big hair, in a maxi skirt..cut to today and the transformation in you is hard to believe. You look chic, stylish, glamorous and sexy. A lot has changed, other than your hair..tell us about the transformation, the journey.
Thats true! When I look back at the old posts, I do feel the same and all I can say is that nothing would have been possible if I didnt have my Team BHLM, which comprises of my closest friends, to Push me and Drag me to do what we do! Every post we make, is a reflection of our passion and dedication to things we love doing the most. And when common ideas converge, its the birth of something new and intriguing.
4. The most striking change has been your hair style, its short and hot..do you ever miss your long hair? 
I used to miss my long hair often before. Had I answered your questions a couple of weeks before, the answer would have been Yes. But lately, the answer would be No. Since my latest haircut two weeks ago, I realised this is what I love more than my long hair! BIG hair doesnt necessarily mean a voluminous long hair, Infact it has no relation to the literal meaning at all. The hair part in my Blog title simply means, I love chaging hairstyles and hairstyle constitutes one of the basic foundation to good styling.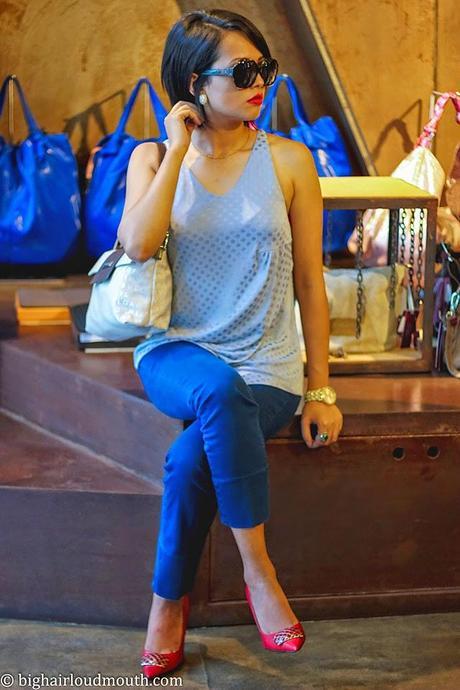 5. You are someone who has experimented and played around a lot with your hair. What have been your best hair decisions and which have been your worst. What hair advise will you give us?
My best hair decision would be using the Moroccan Oil Products for hair treatment. The worst decision I ever made was bleaching my hair to follow the Ombre trend. The Ombre dye literally killed my hair and I finally understood what it meant to have a lifeless hair. There is no shine, no bounce, just a limpless mass. Hence I decided to go short and try a chic look, keeping in mind I'll never repeat the mistake of washing off my original hair color.
6. What is your everyday morning beauty and makeup routine?
I use Vichy and Shiseido products for the day.I dont apply makeup everyday. However, when I apply makeup, I use a foundation from Revlon, Blush and Brozer from NYX, eyeshadow from Naked palette and a Lakme Eyeliner with my usual red lipstick. I make it a point to use my Clarisonic Mia before sleeping every night and I use Jojoba face oil 
every night
 before I go to sleep.
7. You wear statement red lips, which is this fab red?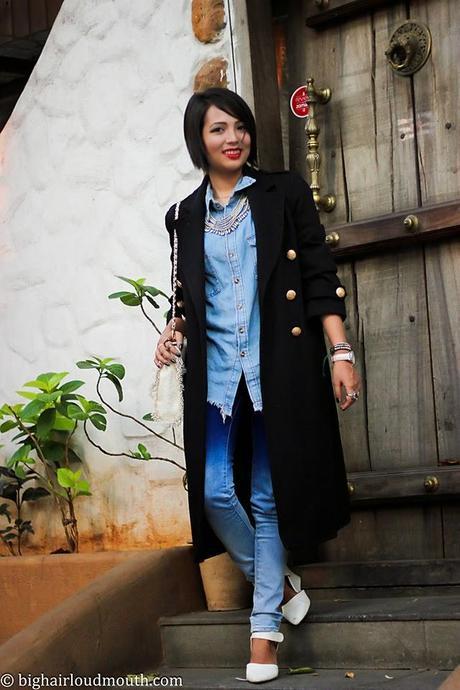 I keep changing them :) But my favorites are the Mac Ruby woo and Russian Red and the Estee Lauder Stay Scarlet.
8. What is your night time beauty routine?
Jojoba face oil.
9. What beauty brands and products do you swear by?
I'd say this is a pretty tricky question. I can use anything but currently I'm using products from Mac, maybelline, Estee Lauder, NYX, Shiseido, Vichy, Colorbar and Inglot to name a few.
10. You shop online a lot..Which are your favorite online stores that are trendy and value for money?
ASOS! My ultimate favorite!
Have you read our interviews with 
Natural Beauty Guru
Nisha Rajpal
Ex New Yorker And Fashion Designer
Anaka
Forest Essentials
Tanushree Saxena
want to look good and feel fab always?? Join us lookingoodfeelingfab.blogspot.in