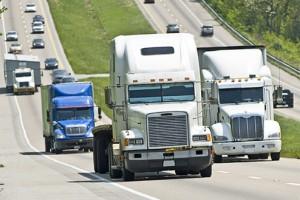 One good idea for managing your fleet may be all you need to make your business more profitable. We've looked at several top industries-food & beverage, construction, and oil & gas -to identify opportunities and positive trends for fleets and owner-operators to jump on.
Food & Beverage
The U.S. Food & Drug Administration's (FDA) Food Safety Modernization Act has made sanitary transport, traceability, and efficiency essential. To achieve this, source-to-shelf solutions streamline the complex supply chains that interconnect manufacturers, retailers, and consumers.
The logistics of any food supply chain are among the most critical functions for supporting and enhancing food safety. You have to make sizable investments in fuel efficient, temperature-controlled equipment and fleets; warehousing and packing facilities; software and technology; and personnel.
To this end, many food manufacturers and grocery retailers are turning to Ryder's Mixing and Consolidation Centers (MACC). This solution combines a network of warehouse and distribution centers with proven transportation resources and consolidation services to help companies reduce less than truckload (LTL) shipments, lead times and costs and boost predictability. This is how it works:
Grocery retailers send orders directly to manufacturers, copying the MACC
Food manufacturers ship products to a MACC in truckload quantities
Products are picked, freight is staged and goods are shipped to grocery retailer distribution centers in full truckloads containing multiple manufacturers' goods at truckload rates
This type of program helps you realize:
Average savings of 6% to 22% on freight costs
8% on-time deliveries
Reduction in out-of-stocks from 2% to 14%
Lead-time reduction of 3 to 7 days
Construction
With less uncertainty than the energy sector, transportation for the building sector is doing well right now. In its 2016 engineering and construction outlook, PricewaterhouseCoopers says, "In the U.S., construction starts were up about 15 percent in 2015 and are forecast to advance another 6 percent this year," with a possible bump from infrastructure projects.
That 6 percent isn't a huge growth margin, however. It's another situation where smart choices in supply chain will increase profitability. In the diverse and complex construction industry, Ryder applies its LEAN methodology of continuous improvement, which includes the following:
Advance material planning: Smart pre-launch planning-including designing inbound networks, pre-executing with carriers and setting up tracking systems-can positively impact both project scheduling and the bottom line. Planning enables you to consolidate loads and tender to the most affordable, time-compliant carrier.
Visibility: Supply chain visibility is vital to coordinating deliveries and having the right inventory at job sites at the right time. Instead of relying on suppliers to ship whenever they get an order, consider implementing an inbound process based on consumption. Then, coordinate and ship freight at the right time instead of frontloading materials that have to be stored for months or years.
Distribution managemen t: Planning and managing a large-scale infrastructure construction or installation project can be a huge undertaking. An experienced partner can help improve visibility, optimize inventory management, procure and manage transportation and coordinate the flow of materials.
Oil & Gas
To manage complex changes in the domestic oil and gas industries, more fleets are turning to dedicated logistics solutions. In 2013, Ryder introduced complete transportation and logistics solutions tailored for this sector.
Turnkey solutions have benefits for producers, suppliers, drillers and service providers, including:
Millions of dollars saved in annual premium shipment costs
Up to a 30 percent reduction in fleet equipment
Up to 50 percent fewer pickup and delivery delays
Up to a 20 percent increase in load efficiency
Ryder's comprehensive program covers rugged vehicles for lease or rent, with:
Customized specifications designed for the harsh environments of oil and gas trucking
Standardized preventive maintenance services performed at more than 800 service locations in North America and mobile maintenance services, including 24-hour roadside assistance
Short-term vehicle rental to handle peak volumes and special projects
Fleet and driver safety and compliance services
The Takeaway
Logistics in the trucking industry are becoming more complex almost by the day. It's a time for partnerships, or at the very least an opportunity to use rentals to tap into the fleet capabilities of well-established players. This is especially true in the three verticals we've just looked at. It's one clear path through economic waves and regulatory hurdles. In times like this, one good idea can be your moneymaker.