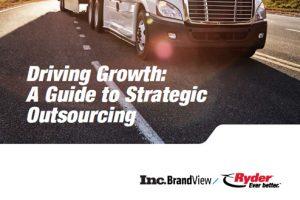 Companies are increasingly seeing the value in outsourcing virtually all facets of logistics, from delivery services and fleet management to shipping, warehousing, inventory management, and the many associated billing and auditing needs that go along with those functions. In fact, buoyed by an annual industry growth rate of 25 percent, third-party logistics (3PL) companies are now generating a combined revenue of more than $70 billion.
While the demand for virtually all forms of outsourcing has surged in the last several years, many companies remain hesitant to enlist the help of third-party services. A close look at the reasons given for such hesitation, however, often reveals that such concerns are the result of misconceptions about how outsourcing works, how much it costs, and what it can mean for a company's growth.
A recent survey conducted by Ryder System, Inc. in conjunction with Inc. magazine underscores the trend, revealing that 60 percent of respondents outsource some, most, or all of their logistics and distribution needs, with more than half (51%) citing fleet management as one of the logistics needs they outsource.
Download our new e-Book Driving Growth: A Guide to Strategic Outsourcing to see the full results of the survey. The e-Book also uncovers the truth to outsourcing myths, while highlighting the value a strategic partner can bring to fleet management and logistics operations.
The e-book also includes real world case studies, where you'll learn the results companies small to large achieved through outsourcing.