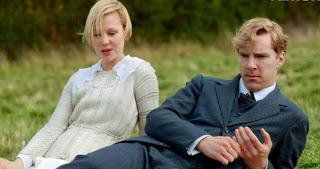 Parade's End
It's been I while since I last posted about period drama or TV series. I hope you haven't been thinking that I have been neglecting one of my passions,  because I haven't. I have been watching several new series in fact, only I didn't have time to write about them. For example,  I watched all the five episodes of BBC2 Parade's End starring Benedict Cumberbatch, Adelaide Clemens, Rebecca Hall, Rufus Sewell and Rupert Everett among other great actors and actresses.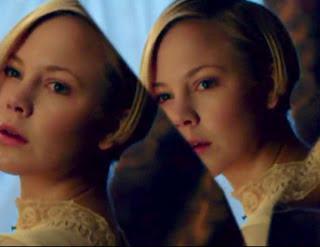 Adelaide Clemens as Miss Wannop
Tom Stoppard's adaptation of Ford Madox Ford's tetralogy,  Parade's End,  was broadcast on BB2 in September. The 5-episode series is intelligent, refined TV drama that I hope you'll come to see and appreciate sooner or later. I am not a huge fan of Mr Cumberbatch 's male charms but I do recognize his talent as an actor. I love his voice and his cerebral performances, especially as Sherlock, but I didn't watch this drama especially for him.  While I liked the series very much for its themes and its brilliant script (not an easy task to adapt modernist prose), and loved the costumes and beautiful locations as well, I couldn't sympathize with its hero. Not Mr Cumberbatch's fault, mind you,  but ChristopherTietjens's uprightness, stiffness and stubborness didn't let me feel any tenderness nor sympathy for the martyr of society he wanted to become. 
I did hate  his wife, Sylvia, it was impossible not to despise the beautiful but cruel socialite brilliantly played by Rebecca Hall, so  selfish, manipulative and cruel.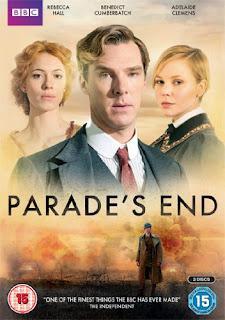 All my sympathy went to young, strong-willed, brave Miss Valentine Wannop (Adelaide Clemens) and I sided with her in her long, faithful wait for the man she loved. Not a passive romantic heroine, but an actively socially committed woman, longing for her chance to live real love. 
The
DVD
 will be released on 8 October at 
Amazon.co.uk
  and BBCshop.com (for region 2). 
In the dying days of Edwardian England, English aristocrat Christopher Tietjens finds himself marrying Sylvia, a beautiful but cruel socialite who is pregnant with a child who may or may not be his. Christopher is determined to remain loyal to his wife, but his life is transformed the day he meets Valentine Wannop, a fearless young suffragette. Moving from the glittering yet shallow world of London high society to the trench-scarred battlefields of France, Parade's End is the story of one of the defining eras of the last century; a time when old certainties are being torn down and lives are changed forever (from BBCshop.com site)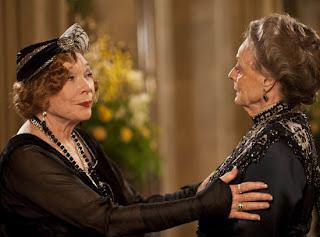 Shirley MacLaine and Maggie Smith
I've started watching season 3 of ITV Downton Abbey on Sunday night and BBC1 new 8-part period drama The Paradise on Tuesday night. I'm fond of them both.
I can't have enough of Maggie Smith, Hugh Bonneville, Dan Stevens & co. though I do realize that episode after episode Downton Abbey, like many other long-running series,  can become soapish and predictable here and there. What can I do if I simply love them all and can't resist watching them smiling or crying, plotting or connecting, loving or quarrelling, as if I were meeting old friends on Sunday night and hear them talk about the latest news in their lives? Not always incredibly interesting or surprising but what can we do without our friends?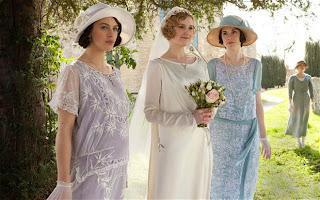 The  Crawley Sisters on a special day
I was so sorry for Lady Edith last Sunday, but at least I can  say: "I didn't expect that. I didn't see it coming". Not always so foreseeable, then. Well done, Team Downton!
Is Shirley MacLaine already out of cast after two episodes? Not that I missed her in episode 3, I'm stunned I even noticed her absence. Not a crucial presence, nor a spicy addition in my opinion. Leave us our Violet  , Dowager Countess of Granthamand we will  never be bored.
By the way, I read of a prequel by Julian Fellowes which is said to be in the works (HERE). It will focus on the story of Lord and Lady Grantham before their marriage. That would be fabulous, wouldn't it?  Who are your dream actors to play young Lord and Lady Grantham?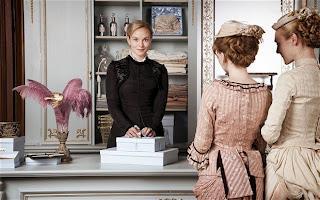 The Paradise
The Paradise is a pleasant, unexpected surprise. Bill Gallagher's adaptation of the classic French novel by Emile Zola has been relocated to a British setting for this new BBC One's drama.
It was announced as "the story of a love affair set against the backdrop of the opening of the first English department store in 1875". Smart, ambitious and big hearted Denise Lovett  (Joanna Vanderham) arrives in the city in search for a job in her Uncle Edmund's shop. But he is coping with terrible hardships and can't take her in. Since he's unable to help her, she turns to The Paradise and her eyes are opened to a whole new world of possibilities.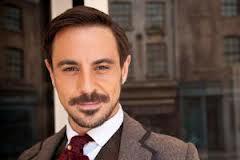 Emun Elliot
In episode 1, I loved one of her lines, when all the other girls noticing  her admiring stare on her boss, dashing Mr Morey, thought her in love with Mr Moray, their boss: "I don't want to marry Moray. I want to be HIM"   Working with him, she studies his talent and she falls in love with the exhilarating and dangerous charms of the modern world, with the idea of a personal success like his, more than with the man himself. John Moray, played by Emun Elliott is a reckless buccaneering capitalist, self-made and utterly modern man who inspires in Denise a passion and creativity she didn't know she had. Will it become love? We'll know the answer going on watching, of course. Next Tuesday, episode 3, BBC1 9 p.m.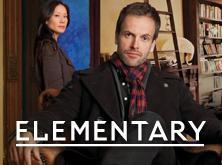 I've also had a look at the pilot episode of
Elementary
an American present-day version of Sherlock Holmes (CBS).  I generally like American series much less than British ones but I can't tell you exactly why. To be honest, I only saw it for Mr Knightley's sake, I mean, for Jonny Lee-Miller (Mr Knightley in Emma 2009),  who is starring in it as a present-day Holmes investigating in New York with the help of a Joan Watson. Did I like or didn't I like it? That is not the question.  I'll simply join the chorus of astonished voices asking :
"Why did they have to make a  new American Sherlock" ?
I find Benedict Cumberbatch's answer to the question very diplomatic but only partly convincing. As he plays a present-day Holmes in the pluri-awarded
BBC series, Sherlock
,  he was asked his opinion on his US alter-ego in Elementary.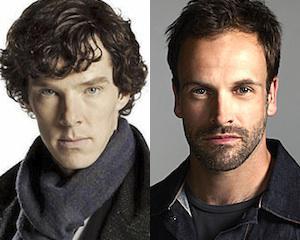 Cumberbatch - Miller
Cumberbatch – who worked with Miller in the UK stage production of Frankenstein – believes the world is big enough for multiple interpretations of Sherlock: "I wish them luck, I really do," the actor says. "I think it will be great. It will be a different spin on it, because obviously, theirs is modern-day as well, so it needs to be different from ours, and I think the more differences, the better, to be honest. "I don't see why they shouldn't co-exist with us," he adds, "I don't think they'll steal our audience. I think people who are Holmes fans who think they do a good job of it will have a treat in watching ours and the films. So I wish them good luck!" 


What do you think? Which of all the series above have you seen?  If you haven't seen them yet, which one/s would you like to see?