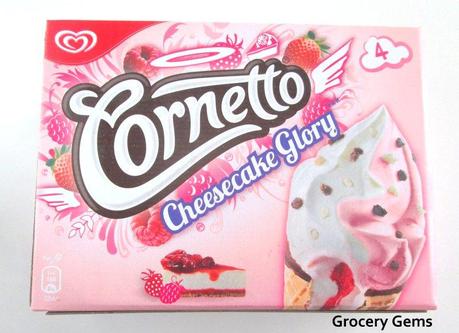 A few weeks ago I reviewed the new Cornetto Chocolate Intense (see review here) which I rated very highly. I noticed quite a few half price offers on ice cream in Tesco yesterday so couldn't resist picking up another new flavour, Cornetto Cheesecake Glory. These were on offer for £1.49 for a box of 4 cones.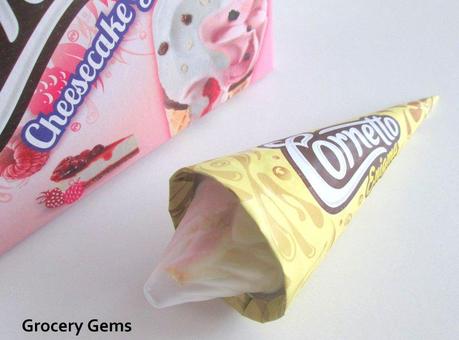 They're described as cheesecake flavor ice cream and strawberry flavor ice cream with a raspberry sauce and "muffin and chocolate" pieces on top. I'm not sure about the description (and the picture on the box) because my cones had zero chocolate pieces on top.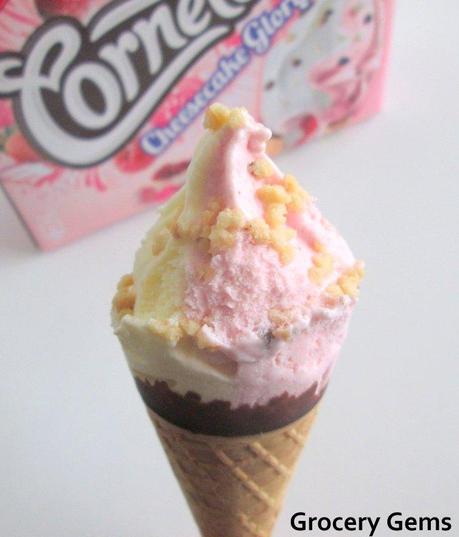 The ice cream itself has a very soft and fluffy consistency and comes complete with a peaked top, hence the need for a protective plastic dome (in second photo above). The flavor of the ice cream is sweet and creamy with a subtle tanginess that successfully recreates the cheesecake theme. The "muffin" pieces on top have a soft texture and biscuity flavor that is pleasant enough, but I think it would have worked better if these tasted more like the digestive biscuit base of a cheesecake. The raspberry sauce which appears through the center of the Cornetto, was especially good as it adds a real kick of fruitiness and sweetness to the cone. Overall, I did enjoy the Cornetto Cheesecake Glory but it doesn't replace the new Chocolate Intense as my favorite.
Grocery Gems Verdict: Cornetto Cheesecake Glory

Rating: 7.5 out of 10
Nutrition: 160 calories per cone.
Purchased: Tesco.
Price: £1.49 for a box of 4.