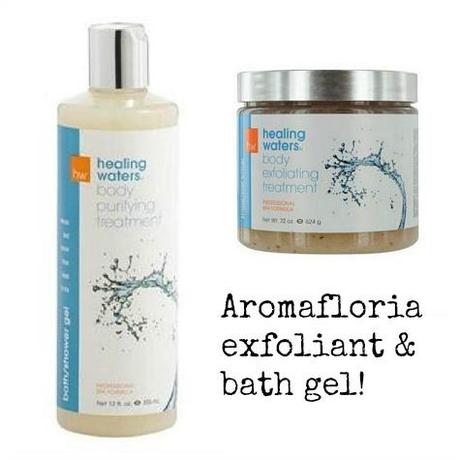 I'm a firm believer there is no such thing as too much pampering. Which probably explains why half my bathroom is devoted to bath & body products. My latest pamper-me goods? Aromafloria's Healing Waters Collection. THis duo will most definitely leave you purified, pampered and ready to conquer last week's roll-over projects (you know…the ones you keep having to rewrite each time you make a new to-do list?). Here's the pamper-loving scoop, bath & body enthusiasts:
Beauty 411: Aromafloria is one of my fave bath & body makers as their philosophy is making all-natural, eco-friendly products that deliver the ahhhhh factor! Their latest line, the Healing Waters Collection, is pharmacist formulated with cutting-edge "green" technology that blends the finest naturally active ingredients to provide luminous results. The Body Exfoliating Sugar/Salt Scrub ($24) is a blend of mineral-rich sea salts and organic sugar granules that renews, sloughs away impurities, and leave softer, healthier-looking skin behind. The Body Purifying Bath/Shower Gel ($18) is a blend of natural marine botanicals laced with potent, healing antioxidants that creates an indulgent bubble bath, or an oh-so-sudsy lather in the shower!
Beauty bottom line:  This bath & body duo will leave you feeling super refreshed, renewed and luminous from head-to-toe! You can find the Healing Waters line at Ulta or Aromafloria.com.
Happy bubble-bathing and exfoliating, beauties!
What do you think, readers? Will these bath & body goodies make it to your "pamper-me" list?
Crows' Feet, Cupcakes, and Cellulite does not accept compensation for reviews. Samples may have been provided. Opinions are 100% the author's own.