As we all know, Holi is a very important and popular festival celebrated in India. This festival became popular all over the world due to its being our famous Lord Krishna's favorite holiday. Lord Krishna has been a world favorite for a variety of reasons. It is common knowledge that new clothes are worn at Holi after playing with colors, during Holi Pujan. All relatives and close friends congregate to eat delicious preparations and party freely at Holi – it is also called a festival of mirth, where Bhang is had with abandon! Holi is celebrated by people of all ages, with colors in wide varieties and forms, even with water. It is considered a very fun holiday. Proper ethnic wear is not necessary on this day – that's why this festival can be celebrated with fun ethnic wear – you can buy amazing ethnic wear on our website starting from lehengas to fun gowns, dresses and suits at low, low prices and amazing discounts! That's not all, you get amazing advantages when you buy ethnic wear from our online shopping store – Cash on Delivery, free speedy shipping, 7 day returns & exchanges and amazingly low prices, which help you update your wardrobe to your hearts' content. We have added a special Holi Splash section to our online shopping store for a limited period of time, which helps you buy ethnic wear for even more amazing discounts. So, we think this is the best time to discuss what style of ethnic wear you should order from our online shopping store bogglingshop.com for Holi to enjoy with family and friends! 
1.

  

Just look at this pretty red thing! Full of color and blooms, this one should be your ideal outfit this Holi! The upper part of kurta portion of the designer lehenga choli makes it look pretty exquisite for that exclusive Holi party! The below waist portion of the kurta jacket new style designer lehenga choli is fully net with exquisite embroidery on it; the inner skirt is tulle and net. The sleeves also follow the same pattern, though they are completely in net fabric and have no inner lining. Oh and the dupatta - a pretty mesh piece that complements the lehenga suitperfectly! You can use the kurta and skirt separately as well, so you can easily enhance your wardrobe by buying just this one piece from our online shopping store. We hope that this pretty new age designer lehenga makes you burst with color on your special Holi party!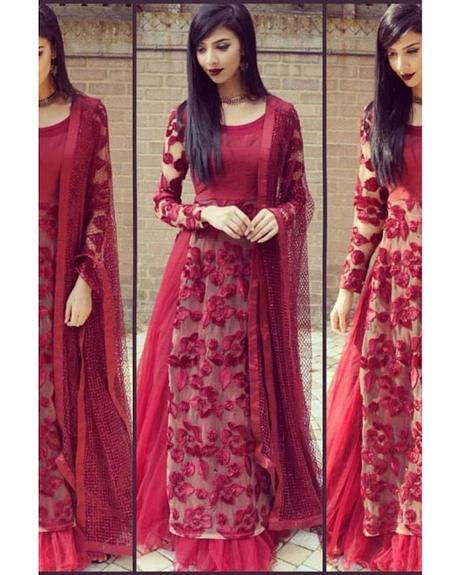 2.

  

This is one of your favorite traditional ethnic wear available on our online shopping store bogglingshop.com. Just look at this pretty ethereal saree! The chanderi cotton fabric gives this pretty cream saree a queenly look, which will complement your look with your hostess duties! This one errs on the side of traditional, which is perfect if you prefer a traditional look during parties and festivals. The white color is a perfect backdrop for traditional silver jewelry, or kundan jewelry if you prefer. The pretty gold borders are perfectly traditional, but the embroidery embracing the lower borders gives it a pretty modern touch. Wear this pretty saree with a matching gold blouse in simple design to showcase the saree even more. We would also suggest wearing flowers – in order to give this piece an even more traditional look.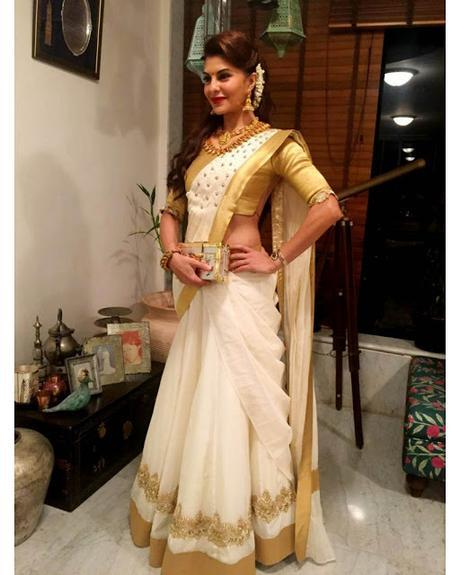 3.

  

Now, we move on to a pretty simple option for your low-key Holi party. This pretty lehenga suit is a perfect wardrobe enhancer. The kurta is a mustard colored plain long kurta with quarter sleeves. The kurta also has a few pretty accents – buttons on one side of the kurta that resemble an angarakha style, fold up sleeves - that help enhance the look of this lehenga suit to the perfection you are after. The full skirt is a pink one with mustard gold prints on it, which complements the full lehenga suit. We suggest heavy kundan or modern jewelry with this one. On our online shopping store, you can find this one in the Holi Splash Sale selection at a whopping discount!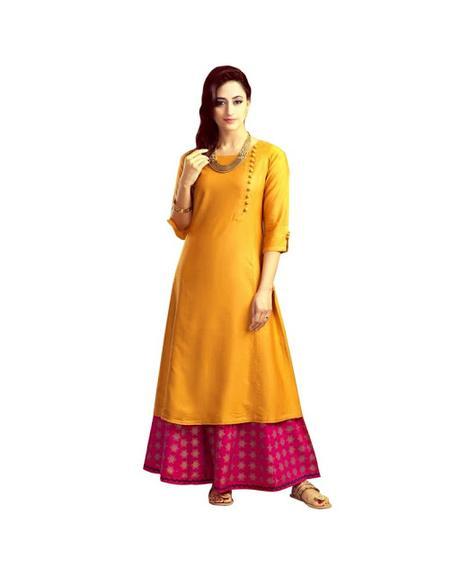 4.

  

We saved the best one for the last. This designer lehenga choli is a pretty unique one. The blouse is a simple blue one, which complements the blue dupatta as well, but the main showstopper of this outfit! The print is called chevron print. This means that the colors of the vertical patches are lightened in sequence. This gives a never-before seen grace to this designer lehenga choli. The blue blouse and dupatta are plain blue with gold polka dots on the hems – that help give a glow to the simple looking portions of the piece. If the sleeveless blouse style is not for you, we suggest lace to add to the sleeves. This raw silk designer lehenga choli should be one you choose from the buy designer lehenga choli section of our online shopping store bogglingshop.com.