The table where I work is close to the French doors, and on the wall outside is my mailbox, so I'm perfectly placed to see the postman driving up in his yellow van (this is France, remember). When he's got parcels, he usually waves them at me instead of putting them in the box. This doesn't happen every day, thank goodness, as I'm trying to cut down on my reviewing a bit, but today was a bit of a bonus, with two novels I've been very much looking forward to.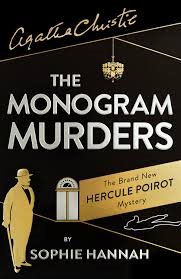 The Monogram Murders is a real double whammy -- two of my favorite authors in one. For this is Sophie Hannah's new Poirot novel, and I've been dying to see what she made of Christie. Today is the publication date, and I daresay reviews are being written here there and everywhere, but I'm going to try not to read them until I make up my own mind.
The other novel is Irene Nemirovsky's Fire of Autumn, said to be the prequel to her wonderful Suite Francaise. That's not out till November, so I'll have to hold off if I can. 
Nice treats, anyway, and thanks to Harper Collins and Chatto &Windus for sending these.