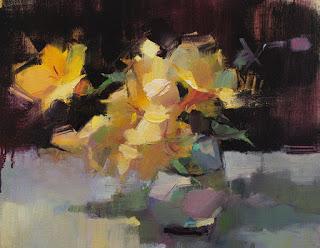 Foundations of Oil Painting 2ThursdaysJan. 9 - March 26, 20209am - 12pmSwinton's Art Supply Studios Calgary, AB
I'm offering a 12 week oil painting course at Swinton's studios in Calgary beginning in January and I hope you'll sign up!
In it, you'll learn the ins and outs of oil painting from mixing colours using a versatile 8-colour palette to constructing a painting from beginning to end. 
My goal is to teach you how to tackle a subject with a logical approach, bold and varied brushwork and edges, and accurate color. As well,  you'll learn how to use the paint to create rich and interesting surfaces.
I'm a paint nerd so my instruction will cover both the technical and aesthetic aspects of oil painting.  We'll work with either a low or no solvent method and I'll emphasize safe painting and studio practises throughout.
The majority of the course will be taught from life using still life objects, but I'll use still life to teach concepts that you can apply to any genre, from landscape to figurative.  The last third of the course will be taught from photos that you bring in.
The course is suitable for beginners; painters who usually work in other mediums; or oil painters who want to shake up their practice and work bold and loose.  In other words: no matter your level, you'll learn new things. 
Send me a note if you'd like to register or get more information.
Happy painting!