You know when someone asks if you've seen their favorite movie and say you seen "parts of it" because you don't want to seem like a total pop culture pariah? Yeah, we do too—and we hate ourselves for it! That's why every other week, we've vowed to watch at least one movie we've put off, ignored, rejected or just plain-out forgotten about. Join us as recount the popping of our cinematic cherries, complete with awkward, over-analytical details!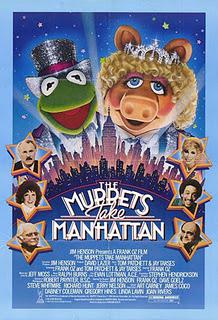 Photo: impaawards.com
THE MUPPETS TAKE MANHATTAN
DATE RELEASED:
June 24, 2005
DATE WATCHED:
November 26, 2011
WHY NOW?
After seeing and falling head over heels for
The Muppets
, I decided to revisit some of the old school Kermit and co. stuff. And I realized that I've never actually seen this movie! And yet, I definitely saw
Muppets in Space
in theatres. For shame!
WHY NOT THEN?
It came out five years too early for this 1989-er. And despite being a big fan of Kermie and
Muppet Babies
, I just never got around to it later on.
EXPECTATIONS:
Lots of original songs and dancing.
Some sort of Broadway-style Muppet show.
A trip to the Empire State Building and multiple stops at hot dog carts.
A Liza Minelli cameo.
A whole host of other 1980s celebs appearing at random for 30 seconds.
Kermit being his typical, adorable, everyman leader self, trying to reel in his puppet pals' and save the day, again.
WHAT I ACTUALLY GOT..
A handful of sweet original songs, including "Saying Goodbye," and "Together Again."
A Broadway-style Muppet show entitled Manhattan Melodies, which Kermit and the old gang try to pitch to a series of cynical and criminal producers.
Missy Piggy with a Babs in A Star is Born perm.
A pre-surgery Joan Rivers giving Miss Piggy a makeover. (Best unintentionally future joke ever?)
A Liza Minelli cameo ... at Sardi's!
A really young Brooke Shields flirting with a relative of Rizzo the Rat.
Gregory Hines really loving rocking rollerskate shorts.
A weird sideplot about Kermit getting amnesia and becoming a nerdy Don Draper - a non-smoking, drinking or sexing Madison Ave. ad man.
A musical number that was obviously the beginning of Muppet Babies. (!!)
The entire population of Sesame Street ... at Kermit and Piggy's wedding!
ONE NIGHT-IN STAND OR SECOND DATE POTENTIAL?
There was definitely something going on between us, especially in the beginning. I'm not sure that we need to see each other too regularly, but we'll definitely catch up every once and a while, when I'm in a New York state of mind, or missing my
Muppet Babies.