You know when you're talking to someone you think is like totally happening in a far out way and they ask if you've seen their favourite movie and you lie and say you seen "parts of it" because you don't want to seem like a total pop culture pariah? Yeah, we do too - and we hate ourselves for it! That's why we're vowing to watch at least one movie we've put off, ignored, rejected or just plain-out forgot about every week from now on. Join us as recount the popping of our cinematic cherries, complete with awkward, over-analytical details!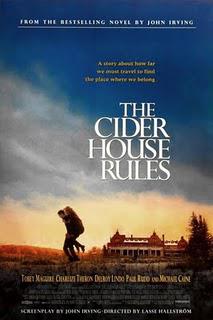 Photo: impawards.com
THE CIDER HOUSE RULES

DATE RELEASED:
December 17, 1999
DATE ACTUALLY WATCHED:
June 1, 2011
WHY NOW?:
It was on TV a while ago. In separate rooms, my mom and sis coincidentally ended up catching bits of it and wanted to watch the whole thing. But they watched it without me. And then couldn't stop raving about it. And then my cousin chimed in. And I was so left out. But I got over it. Until recently. Lately, it's been unavoidable on TV and I couldn't help glimpsing spoilers while channel surfing. So I sat down and watched it through.
WHY NOT THEN?: EXPECTATIONS:
A seriously heart-warming drama.
Tobey Maguire at one of his all time bests (because what can beat Pleasantville?).
Paul Rudd pulling it off as the serious guy in a serious film, rather than his usual serious guy in a comedy.
A film that gets a bit slow and droning at times.
A few good tears.
WHAT I ACTUALLY GOT...
A pretty heart-warming drama.
An impressive Tobey Maguire, just as he was in Pleasantville.
Michael Caine without an accent?! No way!
Paul Rudd more than just pulling it off as a serious guy. He should so go drama over comedy.
Erik Per Sullivan as one of the cutest kids ever. Believe me, if you thought Dewey was cute, you'll just die.
A film that's not so slow but rather beautifully attentive to detail.
A theme that very interestingly combines knowledge and naivety.
No tears.
ONE NIGHT-IN STAND OR SECOND DATE POTENTIAL?
Definitely worth seeing again. Maybe not tomorrow or the next day, but in a couple of years, another visit will be needed.