You know when you're talking to someone you think is like totally happening in a far out way and they ask if you've seen their favourite movie and you lie and say you seen "parts of it" because you don't want to seem like a total pop culture pariah? Yeah, we do too - and we hate ourselves for it! That's why we're vowing to watch at least one movie we've put off, ignored, rejected or just plain-out forgot about every week from now on. Join us as recount the popping of our cinematic cherries, complete with awkward, over-analytical details!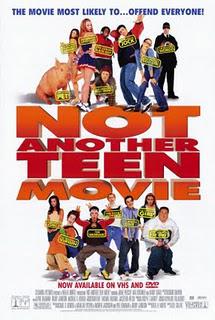 Photo: moviegoods.com
NOT ANOTHER TEEN MOVIE
DATE RELEASED:
December 14, 2001

DATE ACTUALLY WATCHED:
July 13, 2011

WHY NOW?:
While reading up on
Captain America
, I ended up on Chris Evans' IMDB page. And I realized this teen comedy satire was where he got his big break.

WHY NOT THEN?:
Seeing as I was just becoming a teen at the time and had a serious penchant for the filmography of Freddie Prinze Jr. and co, I thought I might find it offensive. Also, I thought it looked incredibly dumb and not in an awesome way (See:
Wayne's World 2, Deuce Bigalow, Undercover Brother
).
EXPECTATIONS:
Chris Evans doing his best FPJ.
Parodies of She's All That, 10 Things I Hate About You, Can't Hardly Wait, Bring It On, American Pie and every other movie that defined my pre-adolescence.
"Little Grey" dressed up like a pre-red stain dress, slow stair walk makeover sequence Laney Boggs. 
Hard rock covers of 1980s pop classics (i.e. "Don't You (Forget About Me)" from The Breakfast Club).
Boobs, dicks and fart jokes.
John Hughes nods GALORE...including a cameo from Principal Vernon!
Chris Evans, covered in whipped cream?!
WHAT I ACTUALLY GOT...
Chris Evans, doing his best FPJ while covered in whipped cream and a (in)appropriately placed banana.
Parodies of all those movies PLUS Varsity Blues, Cruel Intentions, The Craft and Never Been Kissed.
Boobs, dicks, farts, vibrators, conjoined twins, every racial stereotype imaginable and a musical number.
The Slow Clap Guy! (Played by Bogey Lowenstein!)
Ted Mosby trying to be an unpretentious, awkwardly randy tour guide.
John Hughes references GALORE including a cameo from Principal Vernon, a school named after the godly director and an amazeballs cameo from....Samantha Baker/Claire Standish/Andie Walsh - or, as you might know her, MOLLY RINGWALD.
ONE NIGHT-IN STAND OR SECOND DATE POTENTIAL?
Sick day potential. Maybe. It's definitely not good. But it's definitely not bad enough to switch the channel either.