You know when someone asks if you've seen their favorite movie and say you seen "parts of it" because you don't want to seem like a total pop culture pariah? Yeah, we do too—and we hate ourselves for it! That's why every other week, we've vowed to watch at least one movie we've put off, ignored, rejected or just plain-out forgotten about. Join us as recount the popping of our cinematic cherries, complete with awkward, over-analytical details!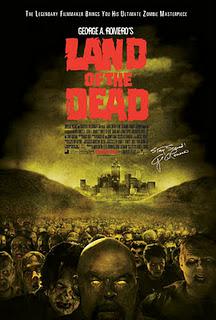 Photo: impawards.com
LAND OF THE DEAD

DATE RELEASED:
 June 24, 2005

DATE WATCHED:
 October 22, 2011

WHY NOW?
The Walking Dead
 had just returned and with Halloween nearing, a lot of people were talking about horror movies. Two things you should know about me, I love horror and I love zombies. Like most other horror buffs, I enjoy a Romero film every so often, but with nine "...of the Dead" titles (including remakes), I haven't seen them all. But when one day, conversation brought up zombies mindlessly tearing through flesh in
Land of the Dead
 (well, what else would they be doing), I was interested. After some research (ie. Rotten Tomatoes), I found that the reviews for it were just as praising as reviews for the 
Dawn of the Dead
remake (which was pretty great). Clearly, I had to watch it.

WHY NOT THEN?
 It just slipped my radar.

EXPECTATIONS:
Swarms of mindless, rabid zombies ravaging toward a handful of survivors
That's it
No, really. That's all
WHAT I ACTUALLY GOT...
Swarms of mindful, rabid zombies ravaging toward a whole barricaded city of survivors
Zombies who learn. This film is about what happens to zombie apocalypse survivors: they live in a walled-in city. And zombies have been brain-dead for so long that they're slowly remembering how to use their brains
A slow start where, like I said, zombies and humans co-inhabit the earth
Zombies who communicate and make plans and shoot guns
People knowingly entering zombie threat, rather than zombies infiltrating survivor hideouts
ONE NIGHT-IN STAND OR SECOND DATE POTENTIAL?
I'm not seeing this one again. Zombies do not shoot guns. They do not make plans. They do not have memories. Making zombies more like humans partially removes their threat and the fear caused by it. This is more a movie about conflict than an infectious apocalypse. This is not really a zombie movie.