You know when you're talking to someone you think is like totally happening in a far out way and they ask if you've seen their favourite movie and you lie and say you seen "parts of it" because you don't want to seem like a total pop culture pariah? Yeah, we do too - and we hate ourselves for it! That's why we're vowing to watch at least one movie we've put off, ignored, rejected or just plain-out forgot about every week from now on. Join us as recount the popping of our cinematic cherries, complete with awkward, over-analytical details!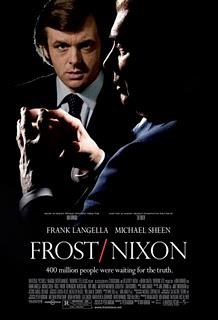 Photo: impaawards.com
FROST/NIXON
DATE RELEASED:
 December 25, 2008
DATE ACTUALLY WATCHED:
September 3, 2011

WHY NOW?:
It's been on my "to watch" list since it was nominated for Best Picture at the Oscars (and four others). So, when my sister suggested it last Saturday, I more than easily agreed.

WHY NOT THEN?:
 Back then, I didn't make it a point to see all the Best Pic noms. So, considering I'd already seen the (overrated) winner 
Slumdog Millionaire
, plus
Milk
 and
The Curious Case of Benjamin Button
 (either of which should have overtaken
Slumdog
), I wasn't too keen on seeing
Frost/Nixon
 right away. Plus, it was political, and to be honest, politics are just confusing to me. But after studying Woodstein, the duo of Woodward and Bernstein who cracked Watergate at
The Washington Post
, I felt ready to take it on.
EXPECTATIONS:
Hard-hitting, though sensationalized, journalism.
Intense stare downs. (Come on, you've seen the trailer.)
Frank Langella convincingly as Richard Nixon, with the Oscar nom and all.
Amazing directing.
My studies of Woodstein put to good use.
WHAT I ACTUALLY GOT...
A more interesting journalism story who starts out as an entertainment host and grows into something more.
Very intense stare downs and palpable tension.
Matching intense cinematography and high-contrast lighting.
Frank Langella pretty good as Nixon, but even more commendable for bringing his own unique take on the role.
Very emotional close-ups.
Not so much use of my Woodstein studying. I'd say a quick Watergate summary and you're good.
ONE NIGHT-IN STAND OR SECOND DATE POTENTIAL? 
I'm not seeing this one again. It was good and I don't regret it but it's checked off my list.