You know when you're talking to someone you think is like totally happening in a far out way and they ask if you've seen their favorite movie and you lie and say you seen "parts of it" because you don't want to seem like a total pop culture pariah? Yeah, we do too - and we hate ourselves for it! That's why we're vowing to watch at least one movie we've put off, ignored, rejected or just plain-out forgot about every week from now on. Join us as recount the popping of our cinematic cherries, complete with awkward, over-analytical details!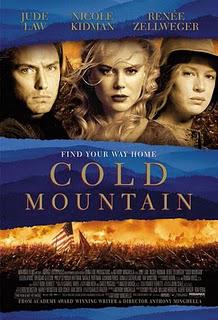 Photo: impawards.com
COLD MOUNTAIN

DATE RELEASED:
December 25, 2003
DATE ACTUALLY WATCHED:
March 3, 2011
WHY NOW?:
Another maze of Wikipedia links, this time beginning with Cillian Murphy and inspired by Inception. I was talking with my sis a few days ago and I realized that there's never been a film starring Murphy that I didn't like. So I Wikipedia-ed him and checked out his filmography, because, you know, that's just the most reliable form of research. That's when I saw
Cold Mountain
and remembered I wanted to see it back when it came out.
WHY NOT THEN?:
Main reason, my BFF watched it without me. We were mega White Stripes fans so obviously we'd have to see any film Jack or Meg White appeared in (though at the time we were unaware of
Mutant Swinger from Mars
, Jack White's actual, really strange film debut), but when she saw it without me, no one else (meaning non-White Stripes fans) wanted to watch such a dusty, slow romantic drama with me.
EXPECTATIONS:
Dusty, desolate, albeit beautiful scenery.
A slow-paced, palpably emotional story.
Jude Law at his best (he was nominated for an Oscar for the film).
A convincing cameo by Jack White as Georgia.
Amazing soundtrack.
WHAT I ACTUALLY GOT...
Dusty, desolate, surprisingly gorgeous scenery.
A quick history lesson on the American Civil War.
One of the most beautifully-told love stories and a realization that Nicole Kidman is her absolute best in romantic films (I thought Moulin Rouge! was a one off).
Jude Law at his best too (though still brilliant in The Talented Mr. Ripley and I ♥ Huckabees).
Many, many, many big-name actors.
Fitting, though not amazing, soundtrack.
A too-short, late cameo by Jack White.
ONE NIGHT-IN STAND OR SECOND DATE POTENTIAL?
I'd see it again without hesitation, though probably in a few years after a chance memory. Definitely a DVD worth adding to the collection.