You know when you're talking to someone you think is like totally happening in a far out way and they ask if you've seen their favourite movie and you lie and say you seen "parts of it" because you don't want to seem like a total pop culture pariah? Yeah, we do too - and we hate ourselves for it! That's why we're vowing to watch at least one movie we've put off, ignored, rejected or just plain-out forgot about every week from now on. Join us as recount the popping of our cinematic cherries, complete with awkward, over-analytical details!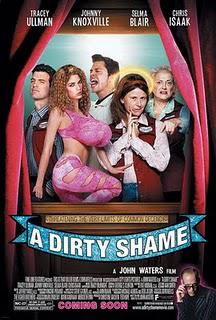 Photo: impaawards.com

A DIRTY SHAME
DATE RELEASED:
S
e
ptember 25, 2004
DATE ACTUALLY WATCHED:
Sometime in June 2011 (it was during my wisdom teeth recovery, which seems like a giant, time suck of a blur)

WHY NOW?:
Since I am a cult and camp fangirl, I am a  fascinated by the fucked up film stylings of John Waters. (You know him as the man who coiffed the original
Hairspray
.) And since Mr. Waters is going to be in my hometown (Toronto) later this month for the FanExpo (including a stop at the Toronto Underground Cinema for a one-man show!), I thought I would attempt to watch all of his films I have yet to see. This NC-17-rated comedy, about a prude suburban mom/convenience store employee who becomes a nympho after getting a concussion, was first on my list.

WHY NOT THEN?:
  Well, first and foremost, I really couldn't. I was 14 at the time and it was rated 18A here in Canada, which meant I couldn't see it without a parent or some other adult. And considering the blatant sexual content and American rating, there was no way in hell I was going with my mom or dad. But also, I wasn't really sure I was ready. Like the main character, pre-sexual revelation, I was a bit shy about sexy times and was afraid that it might be too much for me.
EXPECTATIONS:
Tracey Ullman being over-the-top awesome.
Selma Blair wearing the biggest fake boobs ever created.
Johnny Knoxville looking skeazy-sexy.
Dark as old shit Waters comedy. 
Some sort of dance and or musical number.
Lots and lots of Baltimore references.
Full frontal nudity on behalf of both genders.
Lots of...."SEXIXXN'!" (See: the trailer below.)
WHAT I ACTUALLY GOT...
Tracey Ullman being over-the-top awesome - in a icky, totally pervy kind of way (i.e. when she gets frisky with a water bottle at an old folks home).
Selma Blair wearing the biggest fake boobs ever in order to play Tracey's character's teenage daughter, a sex addict/indecent exposer/local stripper who likes to be called Ursula Udders.
Johnny Knoxville looking skeazy-sexy, acting as a "sex saint" and shooting semen out of his head. (Seriously.)
Allusions to...the Bible? Johnny's character, Ray-Ray considers himself to be reincarnation of Christ and his fetishist friends being his various apostles.
A great joke about a household of bears. No, not the forest ranger or Bernstein kind.
CHRIS ISAAK!  Actually doing some BAD, BAD things.
Dark as an old shit storm (literally, airplane shit falls from the sky at one point) comedy.
An epic climax in every sense of the word. (Hello, whole town orgasm!)
A fair amount of "SEXIN'!" Note the lack of extra Xs. While the innuendos are plentiful, both in the script and the physical action, there's nothing seriously pornographic here. 
ONE NIGHT-IN STAND OR SECOND DATE POTENTIAL?
I'm gonna say...occasional booty call? While it's definitely not my favourite Waters film, it's quite fun, especially if you're looking for a mindless, late-night romp.