Thanks to Master Lock, I just found the perfect Christmas gift for my sister and her husband! They recently bought a vacation home a few hours away from their house. Sometimes, they let other relatives or friends stay there, and now it will no longer be necessary for them to pick up a key from my sister because they will have a Wall Mount Key Safe (5423D) from Master Lock! Check out this brief video to see the unique features of this key safe as well as how easy it is to program and use!
As you saw in the video above, the Master Lock Wall Mount Key Safe has a sturdy weather-proof cover, large buttons for easy viewing and use (even in low-light conditions), and a durable metal construction. If you subscribe to the Master Lock Vault program, you can safely store your password so you will never forget it!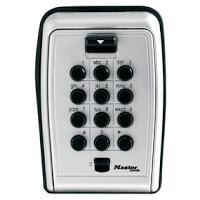 This product is such a fantastic idea for my sister's cottage. If her family gets to the cottage and realizes they've forgotten their key, they don't have to make the long drive home to retrieve it or break into the cottage. And, as I mentioned before, this makes it so easy to allow guests to arrive at the cottage early and let themselves in or use it at times when my sister will not be there. The key will already be at the cottage, but it will be much more secure than if they had hidden it under a rock or the doormat, where most people tend to hide their keys!
The Master Lock Wall Mount Key Safe 5423D is perfect for your primary home or a vacation home, when you're selling your house and want to let Realtors in, for storage sheds, commercial properties or even your RV! This is a must-have for all home owners and even makes a useful gift!


Disclosure: As a member of the Master Lock Live Secure Safety Squad, I receive complimentary products for review. However, all opinions are 100% my own.