New to little Indiana? Subscribe for free to my RSS feed. Thanks for stopping by!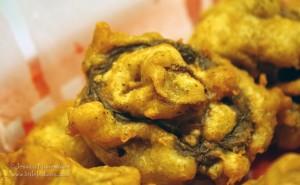 Netters Restaurant in Bremen, Indiana
Bremen, Indiana
Serving up tasty and delicious homemade food that's made to order, this Indiana mom and pop restaurant was a wonderful surprise!
Netters Restaurant in Bremen, Indiana
I admit that I was apprehensive at first when I walked into the really nice, brightly lit interior–would this place serve homemade food?
Absolutely it does! Flipping through the Netters menu, there's a lot to like.
I could not decide between the Patty Melt or the Reuben Sandwich (surprise, surprise). Apparently I am very much a creature of habit!
Menu at Netters Restaurant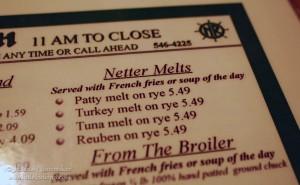 Netters Restaurant Menu: Bremen, Indiana
Hubs ordered Fried Mushrooms and a Philly Cheesesteak Sandwich. He does love a good Philly!
I finally narrowed it down to the Patty Melt–and a side of fries. But next time…that Reuben Sandwich is getting crossed off the list.
If I can keep myself from getting that yummy Patty Melt again, that is!
After receiving our order, well, let's just say that Netters Restaurant ranks up there as one of my all-time faves. From start to finish, it was delicious.
A Family Affair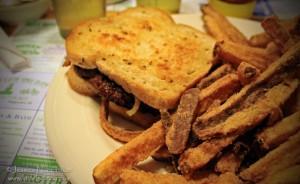 Netters Restaurant Patty Melt in Bremen, Indiana
When I told hubs that my fries were amazing, the owner mentioned that up until I ordered them they were still a potato! Now how is that for fresh?
Hubs boasted that his Fried Mushrooms were the best he had ever had! Days later and he's still going on about the greatness of those mushrooms!
In fact, the owner mentioned that everything they make is made to order and always fresh. It shows! There's a lot of care taken in the preparation of each and every dish.
Go There
The owners have six kids–one of which was helping that very night. Support a family restaurant and you support a family!
You absolutely need to check it out. There's even a bonus: Free Wi-Fi! Now how's that for a great Indiana town hangout?
Find Netters Restaurant images and other pictures in Indiana on my Flickr photostream.
Netters Restaurant
1106 West Plymouth Street
Bremen, Indiana 46506
574,546.4225

View Larger Map
little Indiana: Where to Stay, Play, and Eat in Small Towns in Indiana. Discovering Indiana's best small towns! Now get little Indiana on your Kindle.
Targeted. Relevant. Affordable! little Indiana advertising!