Nespresso fans will be happy to hear about the release of two new Limited Edition Grand Crus, but I suspect they will be even more delighted to know that one of them has an intensity of 11. These Limited Edition coffees have been inspired by two beautiful Italian towns. There is Napoli, with an 11 intensity, and Trieste, with an intensity of 9. I know that Nespresso owners have long been awaiting an intensity greater than 10. Indeed, it's been a few years since Nespresso released the Limited Edition and extremely popular 12 intensity Kazaar.


When I went to the Nespresso Store in London yesterday the new coffees were only available in this double pack costing £7.00, with one sleeve of each new variety. The design features a leather type effect on the outer sleeve and on the boxes themselves. The colours used are red, green and white, evoking the Italian flag. I love the look of the capsules with their white background stamped with the names of the coffee. It's a very different look for the Nespresso range.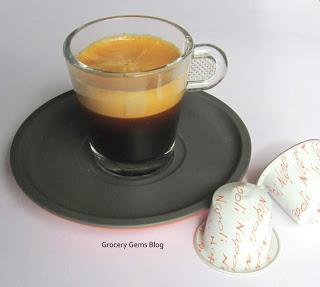 The Nespresso Napoli is described as a blend of South American, African and Asian Arabicas and best enjoyed as a Ristretto (the smallest 25ml setting). The taste is described as having smokey notes with an aromatic woodiness and slightly syrupy body. I made the coffee as suggested to enjoy the full intensity and I was surprised by just how velvety it was, especially given the intensity. However there is also a bitter note which comes through as an aftertaste. I can see why Nespresso also suggest enjoying the Napoli with sugar, no doubt to curb that slight bitterness. This would be the perfect coffee to use as the base for other drinks such as cappuccino or latte, where you still want an intense coffee flavor.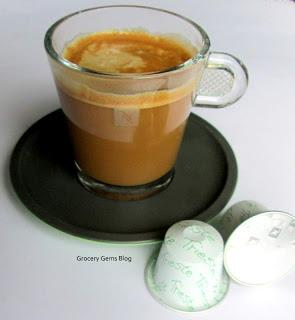 The Nespresso Trieste is a 9 intensity blend with a much silkier and subtle flavor. It is also recommended as a Ristretto (25ml). I've also made it using the slightly larger Espresso size and added some hot milk (as shown in the photo above). It's described by Nespresso as having a rounder texture with chocolate and hazelnut notes. For me there was a sweet smooth flavor to this coffee, almost like caramel, which was just delicious. Considering that the Trieste has a high intensity too, it doesn't have any bitter edge. This was actually my favorite of the two and I can imagine I will be stocking up for the future.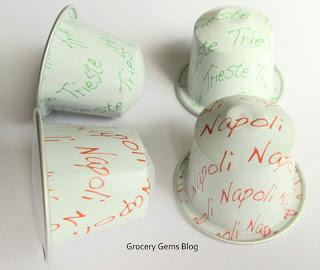 If you've tried these new Nespresso coffees then let me know what you think by leaving a comment below. Are you pleased to see these as Limited Editions or would you prefer them to be added to the permanent range?