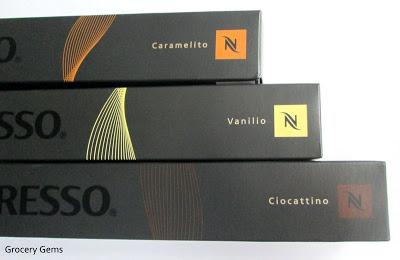 Nespresso have released three new flavoured Variations, into their permanent Grand Cru espresso range. They all feature the Livanto Grand Cru as the base coffee with the addition of 100% natural flavours. I was eagerly awaiting the news of which flavours would be introduced and I'm extremely pleased with the choices of caramel, vanilla & chocolate. Nespresso have released these flavours before as Limited Edition Variations a few years ago, but this was before I was a Nespresso owner!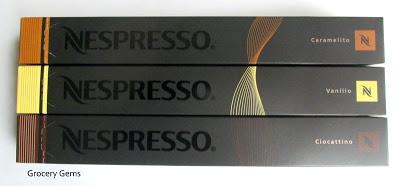 I bought these from the Nespresso boutique in London yesterday. I've tried all three flavours and here are my initial thoughts (all were made using the Lungo setting and with a touch of added milk).


Nespresso Caramelito - The shop assistant in the Nespresso Store told me that the Caramelito was her personal favorite of the three. It's certainly a lovely espresso, with delicately sweet notes that I enjoyed. However, I didn't find the caramel flavor to be particularly well defined, and I doubt I would have been able to guess that this was a caramel at all. It lacks the smooth buttery notes of a caramel, possessing instead the more subtle hints of a slightly burnt toffee.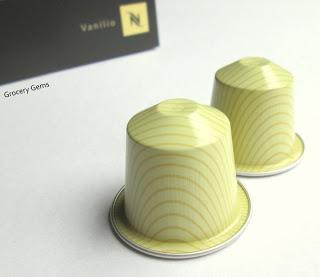 Nespresso Vanilio: I love the Vanilio, it has all the velvety vanilla flavor I expected without the sugariness that this would usually entail. It strikes a perfect balance between the base espresso and the vanilla notes. Even though the vanilla is strong and full flavoured, it doesn't overpower the espresso, ensuring that this is a delicious coffee that's easy to drink at any time of day.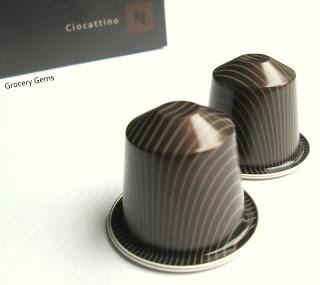 Nespresso Ciocattino: This Ciocattino was a real revelation. I'm not usually a fan of mochas, as I don't like the combination of chocolate and coffee at all (even though I like eating chocolate with a cup of coffee!). However, the Nespresso Ciocattino is just perfection, and was easily my husbands favorite of the three. The chocolate comes through as secondary to the initial espresso flavor and leaves a smooth finish reminiscent of a dark chocolate. I recommend drinking one of these with a plain croissant to hand - the combination was heavenly!
The new Nespresso Variations are now available online or instore.
http://www.nespresso.com/uk/en/pages/coffee