Nepali Mother's day is celebrated on 29th April this year which coincides with Baishak 16, 2071, a New Moon day in the Nepali calendar. In Nepali it is known as Mata Tirtha Aushi or Aama ko Mukh Hene Din literally meaning Mother New Moon and Look at Mother's Face.
The second name needs some further explanation to it's meaning for it to be appreciated. The name Aama ko Mukh Hene Din comes from children who are living away from their mothers. On this day, they come back to see their Mother's face, however, these days it is not as prevalent due to the wonders of Skype and such. Yet, there is also a further explanation for the name from folk stories and legends that give the literal meaning of Look at Mother's Face.
Nevertheless, Mother's day is an important date for all Nepali's regardless of religion, caste or ethnicity. Mother's are showered in love and respect on this day. Gifts are given and important family time is spent together. It is an especially cherished time for married daughters who get to spend time with their mothers particularly if they do not live close by.
For those who have no mother or their mother has passed, this day is also special. Many head to Mata Turtha River outside of Kathmandu and perform some rituals in remembrance of their mother. This puja (ritual) is also done at nearby rivers and ponds. The significance of rivers and ponds is important for all Nepalis on Mother's Day as people meet and bathe. There are many folk stories and legends as to why this is.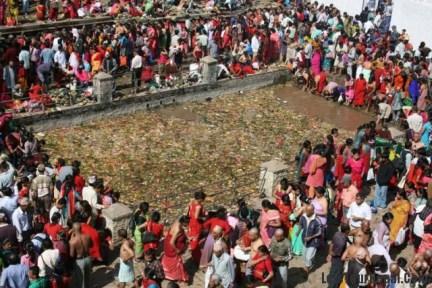 Gathering around the Mata Tirtha pond
One story is of a cowherd who was praying for his deceased mother by a lake, all of a sudden his mother's face started forming in the water and her hand retrieved the offerings he had given. Another story is of a young boy who who used to eat by the pond, but everyday a bit of food would fall in the pond. After this happened for some time he looked into the pond to see his late mother's face appear before him. He got upset and started crying that she would not go home with him but his mother vowed that she could be seen on this day Baishak 16 every year.
It is also said that the lake was frequently visited by a lady looking for the face of her mother. Each time she would go to the water she was greeted with her own reflection looking back. After this kept happening the lady became so frustrated that she would never see her mother again that she jumped into the lake. It is said that since the lady had died in the lake, deceased mother's faces can no longer be seen.
This day is one of my favourite celebrations due to the folk stories and traditions that surround it. Also, it is so lovely for mothers to be idolized and respected as they play such an important part in Nepali families, society and culture. Although I will not be with my mother in law for this day, I hope to celebrate Nepali Mother's Day with her for many years in the future.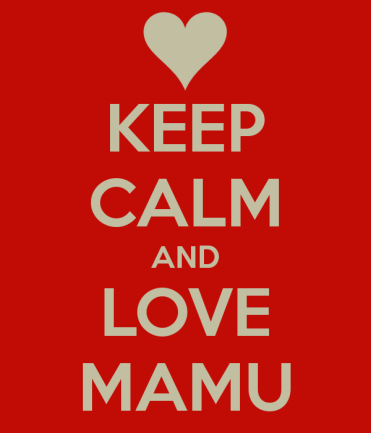 I pray everyone has a lovely day and makes their mother feel the most special mother in the world.