Albert John Cooper the third was born to Albert and Alice Cooper of 48 William Street, Norwich on the 16th of June 1933. Like all new born babies for those first few moments in his new world he started turning blue, until rushes of air cleared Albert's throat for the first time in many, however, the blues had remained.
From Albert Cooper, A Chronicle of Norwich's King of the Blues
So began the long and eventful life of Albert Cooper, Norwich's very own Man in Black who's been singing the blues since 1942. Albert lives below us in the old Co-op warehouse. He's a Norwich original with a tale or ten to tell, is still gigging at the age of 81 and remains in fine voice. Long may he continue.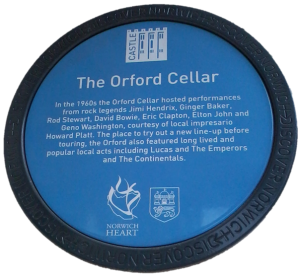 Norwich has a rich musical heritage to suit all tastes from high brow to arty-farty,  symphonic to solo, electric to unplugged and everything in between. Albert is a wonderful part of this tradition and if you happen to be in town tomorrow evening, pop along to the Rumsey Wells Pub in St Andrews Street to catch the local legend and his blues and boogie band.
Down the years, we've been remarkably blessed with engaging, generous, fascinating and wacky neighbours. Until recently we shared a Weaver's Cottage with the modest and unassuming Anjali Joseph who has written two internationally acclaimed novels and lectured in English Literature at the Sorbonne. And there was dear old Colin with his signature horn-rimmed glasses who bought my house and all its contents in Walthamstow, lock, stock and barrel. His kindness eased our passage to paradise and when we got there, we found ourselves sharing a garden with Beril and Vadim…
…a maverick and un-wed Turkish couple who had escaped the conformity of Ankara to join us in the garden of sin. As soon as the sun went down, the stage was set for our regular Bacchanalia. Liam would fire up the tea lights hanging from the branches of the olive tree and Vadim would crack open the rakı. Vadim was a committed party animal, a portly, rosy-cheeked percussionist in his late fifties, obsessed with drums and wedded to his growing collection of traditional Turkish tombak. Beril was a good decade younger than her rhythm and blues man and bore more than a passing resemblance to Kate Bush in her Home Counties years. She tolerated Vadim's banging with good grace but preferred the gloomy Gallic romanticism of Charles Aznavour to the guitar riffs of Santana. She also had a volcanic temper and a fuse the length of a Swan Vesta.
From Turkey Street, Chapter Two