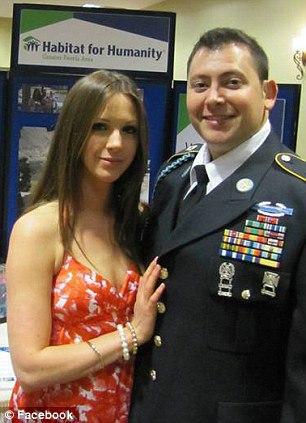 DailyMail: He may have served two tours in Afghanistan protecting the freedom of his nation, but double-Bronze Star veteran David Wood has returned home only to battle ungrateful NIMBYS.
Gifted a charitable home through the efforts of his local congressman, Aaron Schock, for his wartime efforts, Wood, who has lost the hearing in one ear was told that the property plans for his family's house were opposed by his potential  neighbors.
Indeed, an unidentified cabal of neighbors in the Peoria suburb of Morton, Illinois, has clubbed together to oppose his wooden home saying quite clearly, not in my backyard.
The father of three, all aged between eight-years and two-months is shocked, especially because the signatories of the petition have not come forward publicly. 'We were taken aback,' said 28-year-old Wood.  'At first, my wife and I were really hurt. We just felt they really don't know us as a family.'
Wood, who still serves in the National Guard, currently works as full time as a warehouse manager and struggled to find a home for his wife, Julie and young family when he returned from his last tour.
In stepped their congressman, Aaron Schock, who set out to raise funds for the Wood's to get their own home through the Habitat For Humanity charity.
'Our motto has always been we will never  forget,' said Schock. 'This is a couple who made a sacrifice multiple times with  multiple tours of duty. They served very honorably for our country and they are in need of a home.'
Habitat for Humanity build homes across the world for those who cannot afford them and the charity found a vacant lot in  Morton and produced plans to construct a $130,000 home for the brave veteran.
The plan was broken down so that Habitat for Humanity would provide $50,000 for the labor in building and the Wood's will pay the other $80,000 spread over the next 20 years.
However, the anonymous petitioners don't want the house to go up for the simple reason it is built of wood and not brick, like  all the other homes there.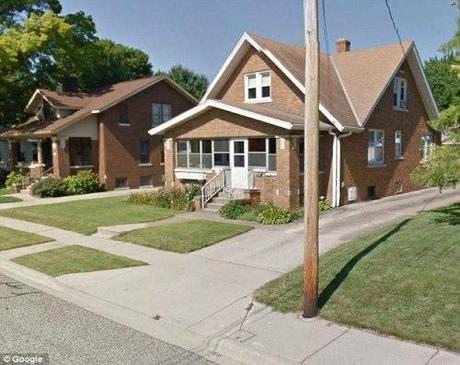 Example brick house in the neighborhood.
Indeed, 'someone' from Peoria has allegedly been knocking on doors, drumming up support for the petition and phone calls  have been made to the local Habitat for Humanity office protesting the Wood's new home.
This has held up construction beginning on the Wood's home and in the meantime they are having to stay with relatives.
Matt Sommer was one resident willing to speak  to the Peoria Journal  Star. He has lived in the upmarket neighborhood for four years and said that an older lady, who he estimated to be in her 70s, knocked on his door with the petition.
He claims not to have seen the wording, but saw around 10 signatures. 'Do you realize,' she asked, 'that it's going to made of wood, not brick?'
Sommer claims that he quizzed the lady on whether she knew that the home was intended for a veteran, to which she replied, yes, but that was not the point.
One caller backing the petition said that there was a 'covenant' in the neighborhood, requiring all homes to be built of  brick. However, an investigation by Phil Luciano of  the Peoria Journal Star found no such legal agreement in any local or county records.
If there is no such covenant, then why the delay? Heaven forbid a wood house be built in their neighborhood! Shame on these neighbors.
DCG